On the Job: Specific Gravity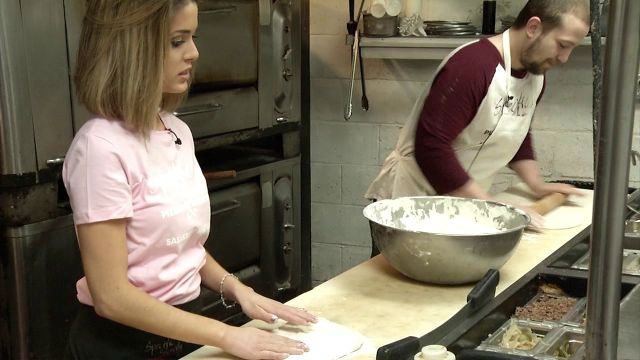 When it's dinner time, pizza can be a delicious option. But before you dial for delivery, you might want to check out Specific Gravity in Salisbury. This week on "On the Job" 47 headed to the joint to show us what it takes to build that perfect pizza pie and serve it, as well.
While it may look small on the outside, Specific Gravity is anything but. The restaurant & bar offers small tables for intimate groups and they also offer community seating.
Before taking any tables of customers, we had to get to know our mentor a bit! Tory Stone has only been working at specific gravity for 1 week! But she has many past years of waitressing experience. Ok, time to head back to the kitchen!
First, the kitchen manager Vince Seefried showed me all the different toppings that specific gravity offers. Seefried tells 47 ABC, "We have pepperoni, we have sausage, fresh mozzarella, grated mozzarella, ham, pineapple, red onion, roasted garlic, broccoli, bacon, ground beef."
And those are just a few options. So, what's the first step in creating the perfect pizza Dropping your freshly made dough into some flour and rolling it out into a flat circle. Then it was time for the fun part. After we had some fun throwing the pizzas, it was time to add sauce and toppings, and then finally they are ready to cook! Seefried says they only need about 7 minutes in the oven.
After enjoying some homemade pizza, it was time to serve some tables and take some food orders. And the place was filling up fast. After writing down all the orders, you have to put it in the computer, which then sends directly to the kitchen for the chefs to see. Once your food is ready to go, you pick it up from the kitchen and bring it right to your table.
Next week 47 ABC heads to Tails and Tubs to help groom one of the biggest breeds of dogs. If you would like to be featured on "On the Job" you may email Michelle at michelle_mackonochie@wmdt.com.