NOAA Spring Outlook April-May 2016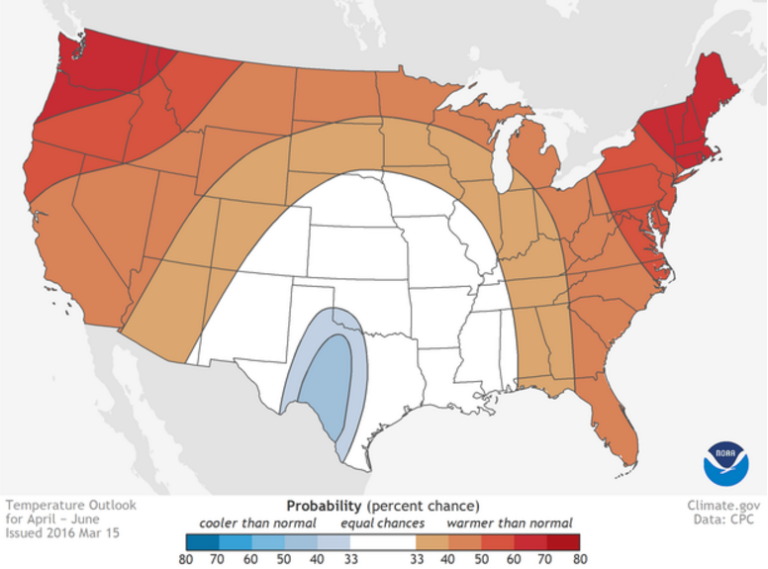 The NOAA Climate Prediction Center (CPC) released this year's Spring Outlook earlier this month that is valid now through May 2016. The Outlook contains flood risks, drought, temperatures and precipitation.
Delmarva does not have a spring flood risk but areas just to the south have a moderate flooding risk. Areas in the southeastern states extending from Alabama to North Carolina are under a moderate risk with areas surrounding it under a minor risk.
Another factor to cross off the list for the Eastern Shore is drought. The only two states that have areas that are expected to be under an exceptional drought this spring are California and Nevada. Although there was precipitation fueled by a near-record El Nino, most of California remains under a persistent drought. The CPC has predicted that most of central and southern California and the southwestern part of Nevada will continue to worsen this spring.
As for precipitation, Delmarva is as usual under an equal chance of having above or below average rainfall. NOAA climate forecasters say that El Nino conditions are still in place but are expected to weaken over the spring months. Although it will weaken, it will continue to shape the weather we see within the next few months. The outlook favors above-average precipitation across parts of Alaska, the southern half of the country, the Southwest, the Gulf Coast and the Southeast.
The Eastern Shore has a about a 60% chance of seeing warmer than normal temperatures this spring. There's an 80% chance that some states in the Northeast and Pacific Northwest will be warmer than normal. The only region in the country that has the probability of seeing below normal temperatures this spring is in Texas.