Delaware man survives heart attack thanks to his wife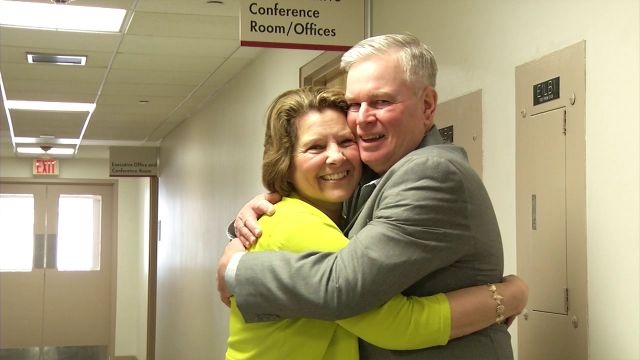 While February might have been American Heart Month, it's always good to be aware of your heart health. For one Dagsboro resident, it's something that he thought he had under control. But after waking up early one morning and suffering a heart attack, he has one person in particular to thank for his survival. His wife.
It was an ordinary December day last year for Paul Schaffran. After having lunch with his wife Rita, they headed back home and he decided he'd hit some golf balls. Shortly after that, they had dinner and went to bed. But it was the next morning that would give them the scare of a lifetime.
47 ABC spoke with the Schaffran's and Rita tells us, "It was about a quarter to 5 that Saturday morning he said he has chest pains I asked him if it was his left arm his right arm his jaw and he said no."
Paul then got up to use the bathroom while Rita got dressed for the day. But Paul tells 47 ABC, "I don't remember anything about that."
Rita says he then asked her to look up directions to a walk in clinic, but she thought it was better to just call 911. Rita tells 47 ABC, "I went outside into the kitchen to call and he came out dressed, but as he was getting dressed, he said tell them to hurry up and he just collapsed on the floor."
While on the phone, Rita says the 911 operator heard everything that was going on. Rita tells 47 ABC, "He said you have to start performing CPR."
That effort would save Paul's life. Rita says she learned CPR in classes she took back when her daughters were in girl scouts, that was years ago, but she retained the knowledge. She would perform CPR for 15 minutes before EMT and police showed up. When asked how she managed to stay calm, an emotional Rita tells 47 ABC, "I have no idea."
Doctor M. L. Ray Kuretu, Medical Director of Cardiac Surgery at Beebe Healthcare also helped save Pauls life. But he says what happens before the patients arrive at the hospital is vital to their survival. Dr. Kuretu tells 47 ABC, "For me the CPR is very important it's actually more important than what we do when you give them to us because we are at the end of the critical point."
Dr. Kuretu says 90% of heart attacks happen in the home, and the chances of having one go up when you are over the age of 65. He also tells 47 ABC, "If you call 911 you triple your chances of surviving a heart attack."
Which is exactly what Rita did, and because she did, her husband is still here. Paul tells 47 ABC, "I guess CPR is probably the most important thing you know it saved my life. I'm thankful to the care I got from my wife and the care I got here at the hospital."
Rita also stresses that knowing how to perform CPR, or even refreshing your memory if you have taken a course, is critical. After Paul's heart attack, word spread quickly around their community. Now they have the volunteer fire department come in and actually give CPR classes to those who are interested. So far, the classes have been packed full every time.