UPDATE: Crash under investigation on Route 9 in Georgetown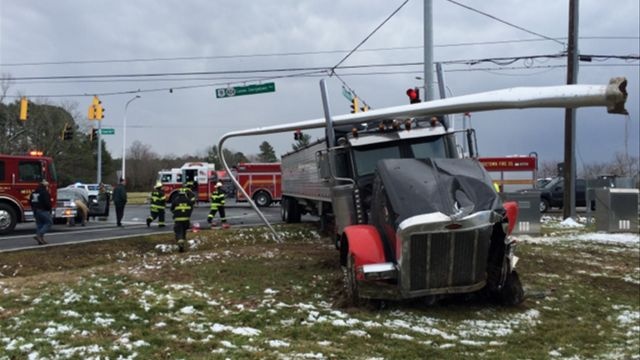 Members of the Delaware State Police say they are investigating a crash that occurred around 1:45 P.M. Friday, involving a car and a tractor trailer.
Troopers say a 79-year-old Berlin man was operating a 1998 Buick LeSabre southbound on Gravel Hill Road. Investigators say the man was attempting to turn left onto Route 9, when he reportedly collided with a truck.
According to police, the light in north and southbound lanes of Route 9 were green, when the driver of the Buick failed to yield the right of way and began turning left into the path of the tractor trailer. 
Investigators say the two vehicles collided in the intersection and the truck reportedly struck a light and traffic pole on the northwest corner of the road before coming to a stop.  Police say the car was pushed backwards and came to a stop in the middle of the roadway. 
Troopers say the Buick's engine compartment caught fire, but was quickly extinguished by the Georgetown Fire Company on-scene.
According to Troopers, the 79-year-old man was properly restrained and transported by EMS to Beebe Healthcare where he was treated for non-life-threatening injuries. 
That driver was reportedly cited for Failure to Yield the Right of Way and Failure to Have Insurance in Possession.
State Police say the truck Driver was properly restrained and uninjured in the collision.
Route 9 at Gravel Hill Road was closed for approximately three hours while the crash was investigated and cleared, according to Troopers.