Parents of murdered Millsboro woman speak out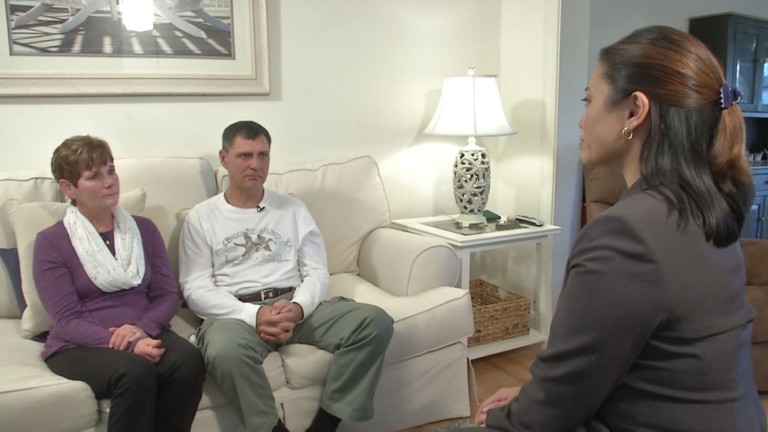 32 year-old Matthew Burton of Dagsboro, Delaware has another eight months before he will be tried on 1st degree rape and murder charges. His jury trial has been moved from April 11th to October 3rd, in Sussex County Supreme Court in Georgetown.
By the time this case goes to trial, more than 4 years will have passed, since the slaying of 35 year-old Nicole Bennett.
Her family admits this latest news is discouraging. They are simply fed up, waiting for justice.
In an exclusive interview with 47 ABC, Nicole's parents speak out for the first time to the media, about losing their daughter and how they're preparing for the upcoming trial.
Margaret and Steve Reiser admit talking about their daughter Nicole is still very difficult. "Sometimes my mind goes there," Margaret tells 47 ABC's Emily Lampa. "You know, about how it happened. And I just shut it down. Because what good is it going to do me?"
Steve adds, "The way she was. I don't even want to think about it. It's just…tough."
Nicole Bennett disappeared on June 14th, 2012. She was working late that night at Bayshore Community Church in Millsboro, Delaware. That next morning, the family got the terrible news. Someone found Nicole's body, on the side of a dirt road in Worcester County, Maryland, the victim of a brutal murder.
"Life is so cruel…It's not fair," says a tearful Margaret. "I mean to take her. I mean, she has these three little girls, you know? At first I felt so sorry for myself. And then I got to thinking, but there are these three little girls that lost their mother. Why am I feeling sorry for myself? When they are the ones that are really suffering."
Nearly four years have passed since this terrible tragedy, and the Reisers admit they're definitely in a better place emotionally. They reached out to 47 ABC about speaking out after we interviewed the Bennett family last year. And what's clear from spending time with this family, is that the depth of their pain helps you to understand their strength.
Nicole's death isn't the first time the Reiser family experienced incredible loss. Nicole grew up with two younger siblings, Emily and Craig.
In 2003, the Reiser's younger daughter, Emily, was severely injured when a tractor trailer crashed into the car she was driving. That was January 11th, her 24th birthday.
"I think what happened…she got hit in the side and hit her head really really hard in the top of the door post, I think," explains Steve, who recalls how their daughter later died. "It was tough because she laid in the hospital there for what? A day and a half? She was an organ donor and there was no brain wave activity."
"We've lost both my daughters," Margaret said through tears. "That's the hardest thing."
In order to work through the grief of losing Emily, they joined a support network called Compassionate Friends, which helps parents who have lost children. Steve tells 47 ABC that same support group is helping them cope with Nicole's death, "We lean on one another. We talk. We always get together. We explained what happened to our own kids…and that helps."
The Reisers live in Nebraska, but they travel a number of times a year, mostly around the holidays, to spend time with their three granddaughters in Millsboro, Delaware. "It's hard. You have a lot of memories," admits Margaret. "You know, what it was like when they were here with you. It's always in the back of your mind. You just never forget that."
In the nearly four years since their mother passed; Lauren, Emily and Allie have grown. The eldest, now in high school, just completed a mission trip to Jamaica. Both she and her younger sister Emily continue to excel at school, pursue sports and music.
"It's just amazing how far those girls have come, in this time," says Margaret, "Nicole would be so happy. She would be very proud of them, and I'm sure she is very proud of them."
Margaret and Steve also shared their concerns over the upcoming murder trial. They admit they're terrified about the details they might hear and we spoke at length about their disappointment over court delays.
In part two of this exclusive report, the Reiser's tell 47 ABC how they're preparing for what lies ahead.