Hogan: "Our path is set and our eyes are clear."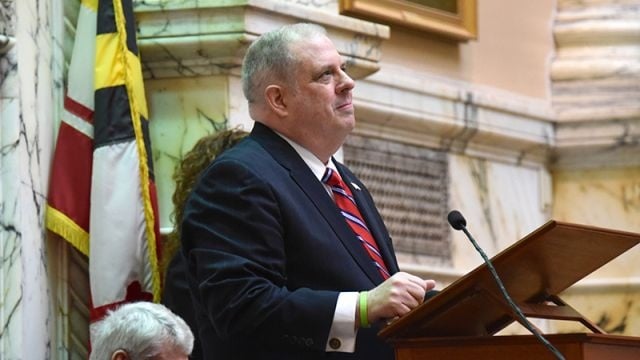 The House Chambers at the Maryland State House was packed Wednesday as lawmakers and state leaders piled in for Governor Larry Hogan's second State Of The State address.
According to Governor Hogan, a budget without tax hikes for the first time in nine years has helped put the economy back on track.
Followed by a sea of applause, Governor Hogan told the Joint Committee "I'm pleased to report that the state of our state is now strong and getting stronger everyday."
In what he calls an "Era of Prosperity", Governor Hogan says Maryland businesses now stand at their strongest in eight years. Big companies like FedEx, Amazon, and Baltimore-based Under Armour have reportedly increased investments in the state and contributed to the newly added 55-thousand jobs.
"Now our path is set and our eyes are clear." Says Governor Hogan. "Let us continue to blaze that new path for Maryland."
District 38B Delegate Carl Anderton, Jr. says this is promising news but admits the Eastern Shore has not reached that milestone yet.
"Our unemployment numbers are coming down, but we're not having the jobs that we have in the previous economic boom where it was nice wage, high wage earning jobs, you know?" Explains Delegate Anderton. "We're not there yet." 
Delegate Anderton tells 47 ABC this is why he supports Governor Hogan's proposal to waive all state taxes on certain companies. Though details are still vague, Anderton believes waiving taxes would be a huge incentive and draw for businesses.
Aside from spending cuts, Governor Hogan warns Maryland need to be mindful of how much it's borrowing. District 38C Delegate Mary Beth Carozza says she couldn't agree more.
"We still set aside enough money to protect so we have resources in a rainy day fund so when we have big events, we will be able to take care of those for all of Maryland." Says Delegate Carozza.
According to District 37A Delegate Sheree sample Hughes, there were two parts of Governor Hogan's speech that concerned her: one being what was missing from it. Wednesday's speech had no mention of investing in non-profits, which Delegate Sample-Hughes calls the backbone of the economy when times are tough.
"When we're looking at people becoming homeless, needing many types of resources, they look to non-profits to hold that piece up for our state and I think that piece could and should have been infused in his message." She tells 47ABC.
Delegate Sample-Hughes says she supports Governor Hogan's message on the importance of "compromise over conflict" in reference to the need for bipartisan support in order to move Maryland forward; however, she says she also wants to "look at the big picture" in regards to tax cuts. Delegate Sample-Hughes told 47ABC Wednesday that she questions whether there will be any programs that would suffer as a result of taxes being cut back.
Hogan has also announced the state is planning to invest 53-million into the Chesapeake and Atlantic Coastal Bays Trust Fund. He says that's the highest level of funding since it was established.
The state has also allocated an additional 231-million dollars in Highway User Revenues to local governments.
Governor Hogan says a personal milestone was being blessed by Pope Francis on behalf of cancer patients. Hogan announced he was cancer-free in November after being diagnosed with Stage 3 Non-Hodgkins Lymphoma in June 2015.
For a copy of the full transcript of Wednesday's speech, click here.