Airline makes record-breaking donation to United Way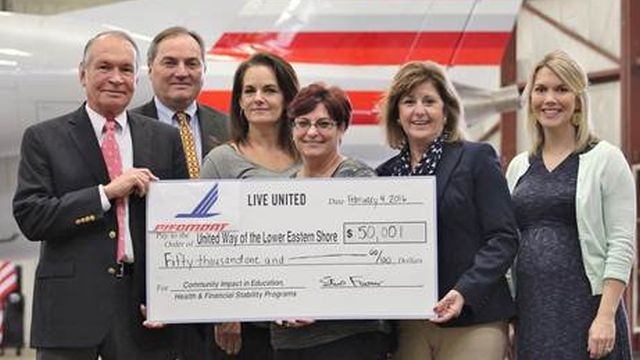 Piedmont Airlines has broken a record after a recent employee campaign to United Way of the Lower Eastern Shore, officials announced Wednesday.
Airline officials have presented a check worth of 55,001 dollars to United Way of the Lower Eastern Shore, which is 20,000 dollars more than they were able to collect last year.
The most recent donation reportedly tops all other previous years.
"One in three people in our community have been touched by programs funded by the United Way," said Steve Farrow, President and CEO of Piedmont Airlines. "For that reason, Piedmont and our employees are proud to contribute to the annual campaign. By supporting the United Way we are doing our part to promote a healthy, vibrant community."
Vicki Miele, Outreach and Communications Manager for United Way of the Lower Eastern Shore, says Piedmont Airlines has reportedly raised over 174,000 thousand dollars for the local United Way branch overall.