5th Grade Salisbury School class wins "Just Zoo It Campaign"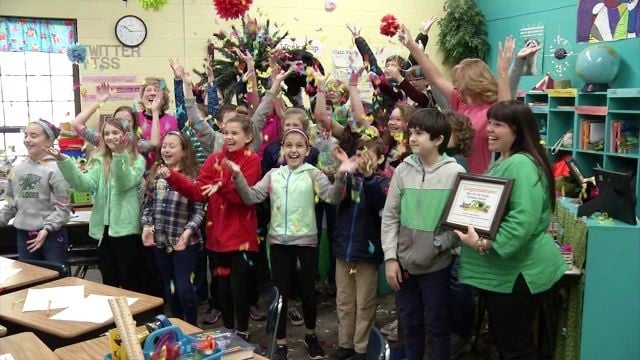 When you give, you get back and some Salisbury students are learning that after a stellar fund raising effort for the Salisbury Zoo. What was supposed to be an ordinary Friday morning for one 5th grade class at the Salisbury School turned out to be an exciting one.
Mrs. Krisulevicz's 5th grade class was showered with colorful confetti when they learned they were the big winners of this years "Just Zoo It Campaign" and they could not be more excited. 47 ABC spoke with Mrs. Krisulevicz and she says, "This is like the best school day ever. I'm very proud of them."
5th grader Sophia Kypreos tells 47 ABC, "I'm really excited because our class usually doesn't win a lot stuff so i think it's just good that we get to win something for once."
The "Just Zoo It Campaign" has been going on for 5 Years now and it's managed by the Delmarva Zoological Society for the benefit of the Salisbury Zoo. Every year around Halloween kids are given "Just Zoo It" soda cans and are asked to collect as many coins as they can. Whoever collects the most amount of money as a class wins a special VIP trip.
47 ABC also spoke with the Salisbury Zoo director, Ralph Piland and he says, "The dollars that the program has raised for us are really important but maintaining the community connection and getting students to become involved with the zoo and the animal programs that it represents is probably even more critical."
This year, Ms. Krisulevicz's class raised more than any other school in 4 counties. $963.25 to be exact. And near the end of this school year in May, they'll be getting a hands on experience inside the bear den!
Piland says this year "Just Zoo It" has raised over $32,000. As far as when the kids will get to go inside the bear exhibit, Piland says they're hoping for the middle to end of May.