UPDATE: Ireton announces bid for Congress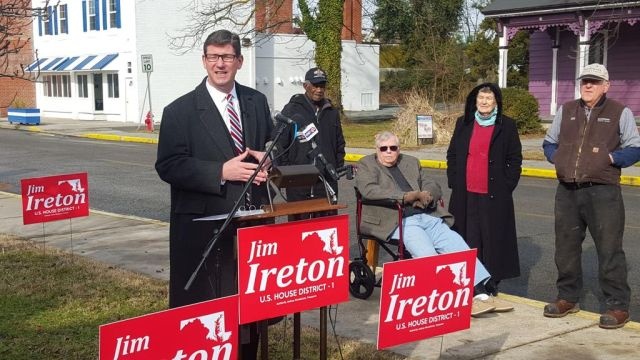 Salisbury City Councilman Jim Ireton has announced he is running for Congress.
Ireton, who is a Democrat, made the announcement Tuesday. He was Salisbury's mayor from 2009 to 2015.
Ireton will be running to represent Maryland's 1st Congressional District. The district includes all of the Eastern Shore. It also includes parts of Harford, Baltimore and Carroll counties.
"We can't assume the problems are different over there and than they are over here. In fact, America is divided because think it's different, you know? Growing up, it was the same thing…"across the bridge" was some place different but it's not, it's not at all." Says Ireton.
So far, Joe Werner, an attorney, is the only other candidate who is in the race for the Democratic nomination.
    
Republican Rep. Andy Harris is the incumbent. Harris, the only Republican in Maryland's congressional delegation, was elected in 2010. He is seeking a fourth term.
Press Secretary for Rep. Harris, Jackie Wellfonder, says in a statement Ireton is welcomed into the race; however, "the First Congressional District is just not going to embrace a liberal politician who supports gun control, instituted a rain tax, increased property taxes, restricted private property rights, and campaigned against Governor Larry Hogan.  Those are not the values of the First District. Congressman Harris has won numerous awards for his help for the families in the First District, including the "Friend of Farm Bureau" award from the Maryland Farm Bureau."
Ireton says he plans to turn in the official paperwork required to run either this week or early next week.