Three charged after apparently stealing copper from foreclosed home in Camden-Wyoming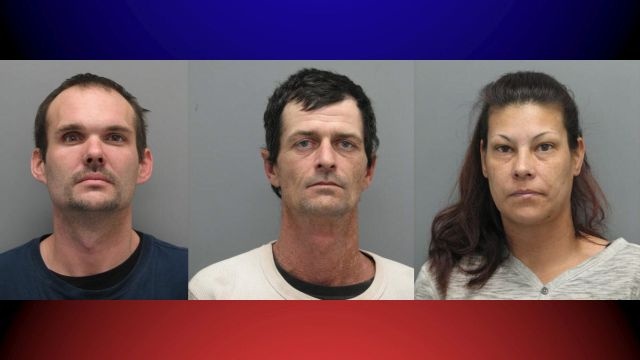 Three people are facing charges, after Police say they burglarized a Kent County home, in an attempt to steal copper.
Delaware State Police say on Saturday just after 10:00 AM, Troopers responded to Peridot Place in Camden-Wyoming, for reports of a burglary in progress. Troopers learned that a woman driving a black Dodge Neon had dropped off two men at the foreclosed home, who then went inside.
Once on scene, Police say they found and arrested 30-year-old Brian Sandoz and 44-year-old William Shumate III, both of Camden-Wyoming, in the basement of the house. The two men reportedly had burglary tools with them, and had cut the majority of the copper wire and piping from the basement ceiling. Police say during their investigation, they found 40-year-old Monica Shumate, of Camden-Wyoming, had dropped the two men off. She was arrested at a home on Mud Mill Road, without incident.
The three are apparently also suspects in similar burglaries around Kent and Sussex Counties, and charges are apparently pending in those cases. For this incident, Sandoz, and both William and Monica Shumate were charged with burglary 2rd degree, possession of burglar tools, felony theft, felony criminal mischief and felony conspiracy.
Sandoz was also apparently wanted for previous investigations involving multiple felony thefts, forgeries and conspiracy from May 18, 2015 and another investigation where he was wanted for identity theft and felony theft from June 5, 2015. He is now being held at the James T. Vaughn Correctional Center on a $13,500 cash bond.
William Shumate was ordered to be held on an $8,000 secured bond at JTVCC, while Monica Shumate was ordered to be held at the Delores J. Baylor Correctional Institute, on a $8,000 secured bond.