Demonstrators push for ex-felon's ability to vote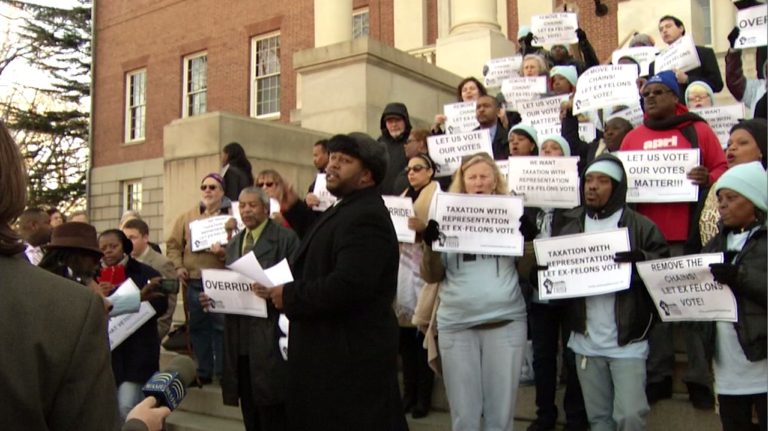 With the primaries ahead of us and the presidential election in November, getting more people to the polls is a major topic of discussion right now.
The 2014 midterm elections had the worst voter turnout in seventy-two years. There is a contentious solution being debated in Annapolis, during this general assembly. Demonstrators were out hoping to sway lawmakers.
"Override that veto!" was shouted on the State House steps in Annapolis by demonstrators on Thursday.  
Former felons, community activists, and elected officials joined their voices and brandished signs all in the hopes that they could convince the general assembly to reverse Governor Larry Hogan's May veto of Senate Bill 340/House Bill 980.
The legislation would give convicted felons who have served their prison time the right to vote.
A former convicted felon during the protest continues, "I did what I did. I got what I got. I'm not whining about it. I've been returned to society and want everything I've got coming."
Christopher Ervin says, "We are human, we are not other than, we are not mutants, we are just like everybody else."
Demonstrators on the state house steps Thursday say overriding this veto would restore the right to vote for about 40,000 Marylanders."
Etta Myers would be one of those people. She goes on, "I was locked up for 40 years."
She's been home for about three years and is paying taxes, but can't cast a vote. Jane Henderson, the director of Communities United says this is against the fundamentals of democracy.
Henderson says, "They should be part of the process. There is no public safety reason to stop people from voting."
Henderson claims that people who vote are also much less likely to re-offend. The American Civil Liberties Union backs this up.
A Florida parole commission study in 2011 also had some hard numbers on this theory. It found that over a three year period, the number of former convicts who re-offended and wound up back in prison was about 33 percent, while the recidivism rate for ex-cons who were given their voting rights back was 11 percent. Henderson is calling on state leaders to recognize this.
She says, "Enough is enough."
The House and Senate are scheduled to vote on these bills this upcoming Wednesday. The House needs to get 85 votes and the Senate needs 29. Demonstrators tell me they're feeling confident they'll get it.