Security cameras installed in Downtown Cambridge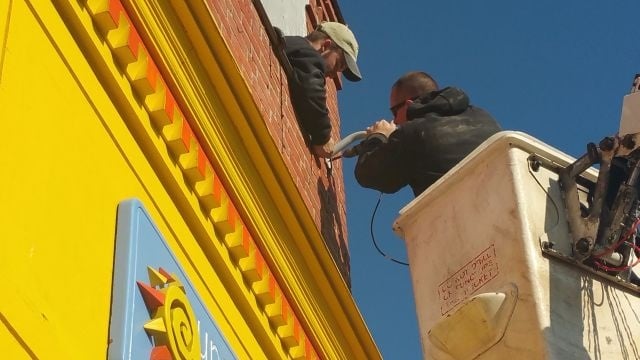 One local downtown is hoping that the installment of new security cameras, will help bring in more shoppers. Cambridge Main Street says the have partnered with Bay Country Communications, Bay Country Security and downtown businesses to bring outdoor security cameras to its commercial district. Officials say the hope is that the cameras will deter criminals.
Officials say the idea came up in March, back before the four high-profile armed robberies that have happened in the heart of the city over the last six months.
"We know these crimes weren't much different than the crime in other towns on the Eastern Shore, and for the most part, it was done by one or two people that our local authorities were able to aprehend quickly," said Cambridge Main Street Executive Director Brandon Hesson. "But because we already had this challenge of others associating our city with crime, we needed to take these things very seriously and make sure we are playing an active part in deterring it."
Using funds raised for the project, Cambridge Main Street purchased TruVision IP Open Standard cameras in polycarbonate, vandal-resistant bubbles. The exact locations, and how many cameras were installed, aren't being disclosed, but two were reportedly installed at the busy intersection of Gay and Poplar Streets, casting a wide view of downtown sidewalks and storefronts. Officials say the video is fed to a recorder, where it can be monitored in real-time, or reviewed after an incident. The system also has the potential to be incorporated into a larger camera program, if Cambridge Main Street expands their area.
"One of the big concerns was making sure that we didn't have something that was immediately obsolete when we extend this to other parts of our downtown, or if the city of Cambridge decided to institute a more robust system down the road," said Hesson. "We were able to put together a nimble camera system that could be changed to fit our needs, without having to saccrifice performance or quality."
Officials say that downtown security will be an on-going project for them, and that local business Resource Assett Management Solutions has agreed to share its knowledge of possible upgrades to dimly lit parking areas.
Although the hope is to deter criminals, Officicals say they are still asking residents and visitors alike to contact authorities anytime they witness suspicious behavior.