Salvation Army prepares to distribute for 800 families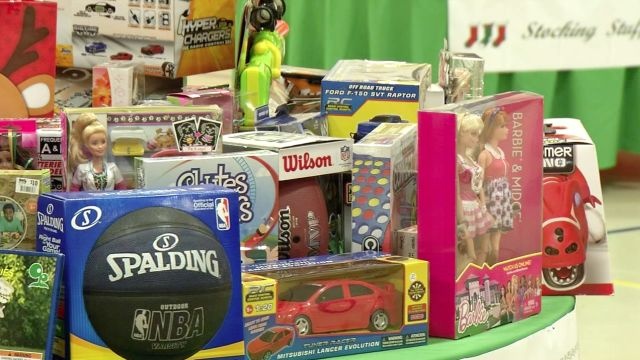 The Lower Eastern Shore Salvation Army is making a list and checking it about three or four times.
"Every time we get a list from some other agency that does Christmas, we check to make sure there's no duplication. That's our agreement with each of the agencies." Explains Major Ellen Tidman. "If it's on their list, that's great they go ahead and help them with Christmas but if they're not on their list…we put them on our list."
Major Ellen Tidman serves as a corps officer for the Lower Eastern Shore Salvation Army. She tells 47ABC about 800 families from Wicomico, Worcester, and Somerset counties will flood into their Oak Street building between Tuesday and Wednesday.
Back in October, families applied to receive donations from people known as "angels." The families were reportedly vetted by the Salvation Army.
Children from the families in need will receive at minimum one item of clothing plus two toys.
Major Vic Tidman, a commanding officer at the Salvation Army, says they keep track of the donations by assigning every angel a number.
"If a donor buys toys for little Sally, I can guarantee that little Sally will get exactly what the donor purchased for her. We may add some toys to that but at a minimum, they will always get what the donor purchased." He explains.
According to Major Tidman, angels are not the only stream of toy donations. Major Tidman explains gifts for families who receive less than the minimum are augmented with the help of Toys For Tots. The tables of toys are sorted by age group.
"And the mom gets to shop on that type of situation." He explains, "We have different toy tables and she can choose one or two toys off the toy table for each of the children that are eligible for that."
Aside from that, families also bring home teddy bears and stockings for the little ones plus a box of food.
On Monday, there were a total of 1,000 boxes set aside and ready to be handed out.
"This is a wonderful community." Explains Major Tidman, "It's a huge outpouring and it's a real blessing to be involved."
Major Tidman says the reason why it takes two full days to hand everything out is because the families will be coming in tomorrow by groups of 50, and they're all through various appointments.