Jury finds Scaletta guilty of theft and false I.D. charges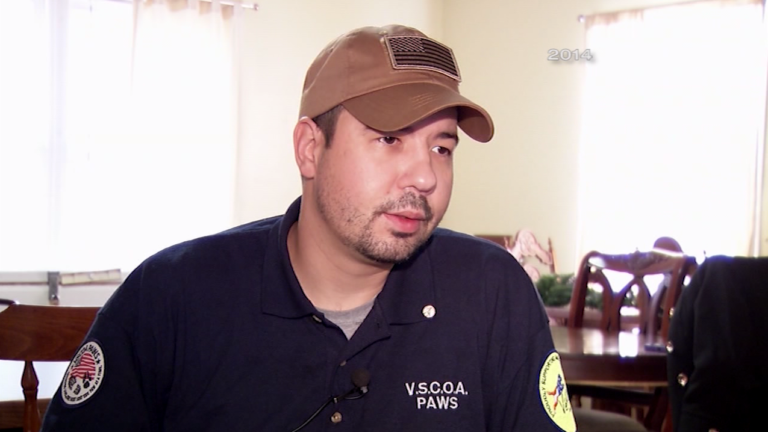 A jury found Jason Scaletta, the former director of the Veterans Support Center of America PAWS program,guilty of a felony theft charge of more than $1,000 and under $10,000. They also found him guilty of using a false government I.D. by misrepresenting himself as an active duty member of the armed forces. It took the jury just over thirty minutes to deliberate.
Scaletta professed himself to be an army war veteran serving in Iraq, Afghanistan, and Kosovo. He also claimed to have won military awards. However, experts revealed in court on Tuesday that none of that is true. 
According to his official military personnel file, 44 days in basic training with the Army National Guard is the extent of his service. Scaletta apparently arrived at VSCOA in the spring of 2013. It's a camp for homeless veterans that was funded through the V.A. and public donations.
Jerry Black, the director of the camp, explained on the stand Tuesday that Scaletta reportedly brought with him a form called the NGB-22 when he arrived at the camp. That form normally confirms someone's service with the National Guard, but before anyone could verify the paperwork, Scaletta left the camp.
He reportedly came back a few months later looking for employment. Black explained that at that time he was hired and a short time later became the director of the dog training program, providing canines to disabled vets.
Scaletta was apparently claiming to be a war veteran and a winner of the Purple Heart, Bronze Medal Star, and Combat Infantry Badge the entire time. He was later questioned about his service, since it had never been verified.
Reports say that's when he provided another form called a DD2-14 which normally proves someone is a veteran. He presented that form to VSCOA.
Scaletta also used his NGB-22 form to get more than $3,000 worth of assistance from the Supportive Services for Veteran's Families. Their lead case manager testified to that on Tuesday. She said they paid for his rent and electricity bills.
According to a National Guard Army officer who was on the stand today, the NGB-22 form Scaletta produced was false. It had the incorrect font, dates, and social security number, as well as many more discrepancies. 
The program manager for the Interactive Personnel Electronic Management System for the Army confirmed that Scaletta's DD2-14 form was also fake. In fact, there is no DD2-14 form that exists for Scaletta.  
Scaletta's former director spoke with 47 ABC following the out come of the trial Tuesday. He said the camp was hit hard after Scaletta's downfall. "We lost a lot of financial support. We lost a lot of just good mood and well-being, of who we were and what we were doing. It was really important for me to carry this all the way through and testify."