Delaware focuses on early childhood education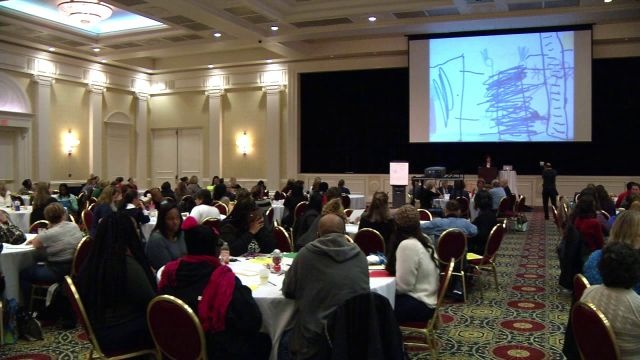 The achievement gap in childhood education starts way before your child even walks into a classroom. Kids from lower income families typically hear 30 million fewer words than their more affluent peers by the age of 3, according to research from the University of Kansas. That's why Saturday in Dover, Delaware put the focus on early childhood education.
Instead of spending their Saturday getting some well deserved rest after a week of teaching, Delaware's pre-kindergarten through first grade teachers were at Dover Downs at the first ever Stronger Together Conference. A day long conference designed to equip Delaware's teachers with the tools and knowledge they need to get our kids ready to learn.
"I think when you have an opportunity to sort of learn the best practices from your peers and some folks who are really experts in the field, it just makes it better for everybody," said Gov. Jack Markell (D)
Markell kicked off the conference speaking to the importance of what a solid foundation can do for Delaware's youth. A notion that all the teachers in attendance were familiar with.
"I think that they know that 90 percent of a young child's brain develops by age five and that the birth to eight period is a unique developmental continuum and which lays the foundation for actually all future learning," said Susan Perry-Manning executive director for the office of early learning.
It's conferences like Saturdays, that Doctor Steven Godowsky, Secretary of Education for Delaware, says will pay off for our students in the long run.
"When you set a foundation of support that we're doing today with this meeting, and all the work that's gone on in the office of early learning, I think you'll see more kids being successful in school from kindergarten through 12th grade," Godowsky said.
The commitment by the government towards early childhood education has teachers on board and feeling excited to take back what they learn Saturday to the kids they love to teach.
"You're amazed and you're saying okay we're getting it now and Delaware is getting it, like we're getting there and we're fighting for it and we want our early educators to be there and have our children there as well and its an amazing feeling," said Ashley Wood, a pre-k teacher at Beach Babies.
Education officials said how proud they were that so many teachers took the time out of their weekend to attend the conference.
As one education official said, it just speaks to dedication, commitment and passion Delaware's teachers show on a daily basis.