800 families receive gifts from Salvation Army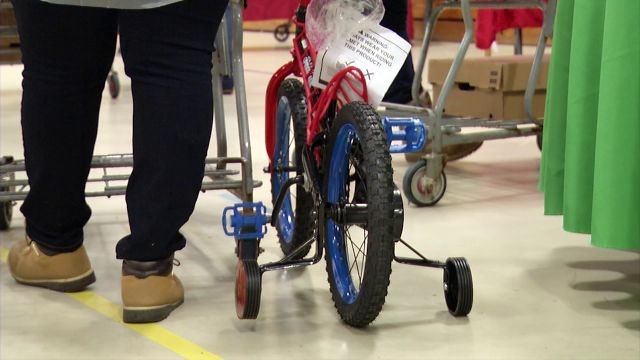 Just over 800 families will have the Lower Eastern Shore Salvation Army to thank this Christmas.
The organization wrapped up their two-day long distribution on Wednesday, where Tuesday Thornes participated for the first time. Thornes, a Princess Anne resident, explains this has not been an easy year for herself and her family.
Without the Salvation Army's annual program, she says Christmas gifts would not have been possible.
"I'm a single mother." Says Thornes. "I have my two children and I actually just lost my job last week, and I wouldn't have been able to do it with bills and everything else."
She is among over 800 families that were selected to be a part of the Salvation Army's Christmas distribution program.
Back in October, families in need began applying before they were vetted by the organization.
Gifts were purchased by donors known as "angels" and with the help of volunteers, Thornes and families were able to pick up gifts and made their way around *this* set up between Tuesday and Wednesday.
Salisbury resident Teara Tenner works at the Boys And Girls Club and volunteered to assist families for the second year in a row on Wednesday.
"When we walk them around to the tables, they're just so happy and excited because they get to give so much to their kids and they know their kids will be happy for Christmas." Says Tenner.
Families going home with toys and clothing were not only ones to leave with smiles.
Major Vic Tidman, a commanding officer at the lower Eastern shore Salvation Army, says the amount generous donations pouring in every year speaks volumes for the community it helps.
"I consider this something sacred that I'm allowed to do and I look forward to doing it every year. It's always a blessing." Says Major Tidman.
Thornes says she hopes she can return that kind of blessing in the near future.
"I'm hoping that I can help next year, that I can be the one out here to help." She says.
Overall, Major Tidman says there were over 50 volunteers assisting with families on Wednesday.
Families that were a part of the program also brought home a box of food purchased through monetary donations collected by the Lower Eastern Shore Salvation Army.