Vape batteries allegedly explode, cause severe burns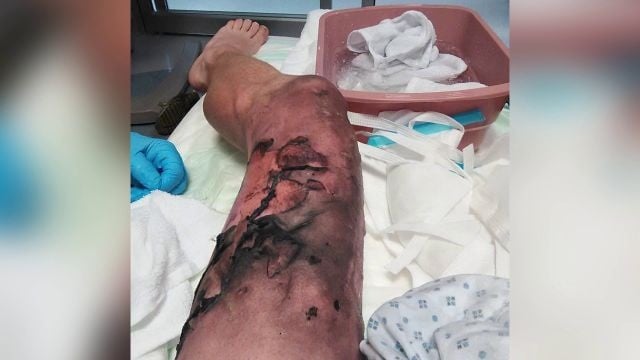 Brian Taylor stepped into work Monday morning not expecting anything eventful to happen, but within an hour of being there, his leg was on fire after the batteries for his vaporizer allegedly exploded. 
"I heard like a popping noise and then it sounded like firecrackers going off in my pocket," Taylor said. 
According to Taylor, the lithium ion batteries made by technology company MXJO started a fire in his pocket after making the firecracker noise. Taylor said he was able to put the fire out with his hands, then had a co-worker drive him to the hospital.
Taylor said he now has to schedule an appointment at Johns Hopkins burn center for further treatment. 
47 ABC reached out to MXJO, but did not have a response by Monday night. However on their website they do caution that the batteries can explode if mishandled and that loose batteries should never be place in a pocket with metal objects. 
Taylor claims all he had in his pocket was a dollar bill, now charred from the fire. 
"I never knew that they were that dangerous and no one ever told me they were that dangerous," Taylor said. 
Taylor said if he  had known that the batteries could explode, he would never have had them in his pocket. 
Now, he questions why the place where he purchased them from never told him.
Taylor said he purchased the batteries from Vapor Alley in Easton, Md.
According to Taylor, the batteries were sold by themselves, without packaging and without any safety instructions.
Vapor Alley denied our request to speak on record, however we sent a member of our news team to verify that the batteries were sold by themselves.
The salesperson she spoke to confirmed the batteries were in fact sold alone, void of any packaging. 
Taylor said right now, he's unsure if he will seek any legal action against MXJO or Vapor Alley. What he is sure about, is doing his best to spread the word so this doesn't happen to anyone else.