Sneak peek of Salisbury University's $117 million academic commons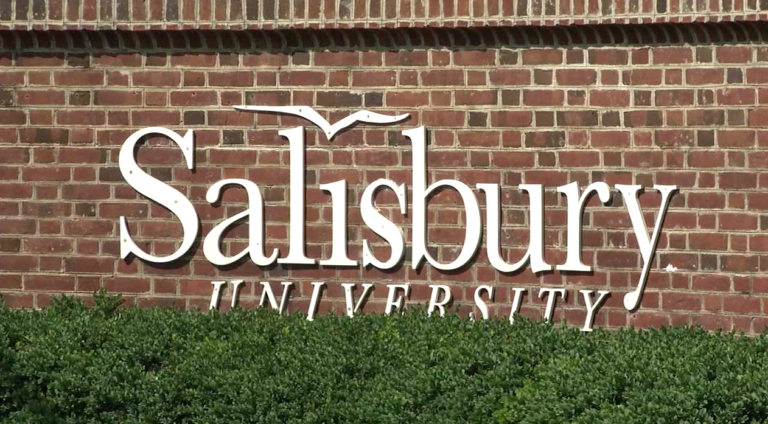 Salisbury University gave media members a sneak peek into the Patricia R. Guerrieri Academic Commons. The 221,000-square-foot building has been under construction for over a year and a half, but is finally starting to take shape. It will host a state-of-the-art libray, the Nabb research center for Delmarva History and Culture, and a 400 seat assembly hall – all accessible to the public. It will also feature 12 classrooms, 18 study rooms, and a 24 hour café.
One of the most impressive structural parts of the commons is the Samuel R. Brown Carrilon. What's a carrilon? In short – and instrument. Digging deeper – it is a set of bells in a tower arranged in chromatic sequence played by using something similar to a keyboard. This particular carrilon is more than just a few bells. It will be the tallest sttructure on Su's campus at 147 ft. It has 48 bells weighing over 25,000 lbs. The largest bell tips the scales at over 4,000lbs. Which is more than twice the size of the Libery Bell. Speaking of which – the bells are being shipped from England by the Whitechapel Bell Foundry – the same company that cast the Liberty Bell itself! The 500 year old British company also cast the bell that now calls Big Ben in London Home.
The building is structurally impressive. 1 million bricks and a steel tonnage equivalent to 270 African bush elephants -the largest animal on land – will certainly turn some heads – but that only scratches the surface.
The Guerrieri Academic Commons (GAC) was awarded the Gold LEED certification from the U.S. Green Building Council.
The GAC has 32,000 sq. Feet of green roof space – close in size to 7 collegiate basketball courts. Other green features include the utilization of special glass and insulation that will save on heating and cooling costs. Some of the windows even feature shields that can be altered to either retain or reflect light depending on the season.
What Salisbury University officials are most proud of is the impact on the surrounding community. They say that during the construction the regional impact will be $238 million while supporting 350 jobs. After construction is complete, the GAC will be open to the public. This civic engagement will ensure that students and the public will be able to take advantage of all the features that the GAC has to offer.
The architect for the project is Sasaki Associates and it is being built by the Gilbane Building Company.
It is set to open in summer 2016.