Data benefits of Delawarefocus.org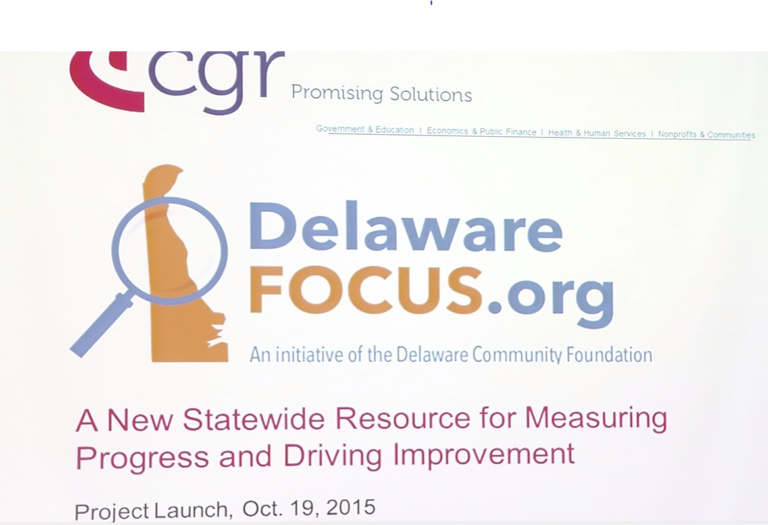 Delawarefocus.org is officially up and running. The website, launched by the Delaware Community Foundation, has a wealth of information about the first state now available to anyone with internet access.
47 ABC tested it out. We searched the rate of teen pregnancy and found that it sits at 4.4 percent. A query about air quality, shows it's improved in Delaware over the past 14 years from 47 percent to 74-percent. The site has seventy-one different indicators, or data points on different social, environmental and economic issues.
Fred Sears, CEO of Delaware Community Foundation says, "Measuring them whether we're doing well or not so well. We can measure how we're trending against other states, other cities our size, or other counties, Sussex County versus other counties." 
Erika Rosenberg with the Center for Governmental Research says it took more than a year to gather the data for the site; but that the information provided is crucial.
Rosenberg continues, "What they really help to do is help a community come together around prioritizing specific issues."
Rosenberg has been working with folks who launched a similar site in Rochester, New York a few years ago.
We're told the indicators there found a lot of racial and ethnic disparities and started the conversation about differences in income.
Because of data on the site, the city of Rochester is focused on lowering their poverty rates. The Delaware Community Foundation now plans to start a Delaware Focus Council that will analyze the indicators, answering questions.
Sears continues with examples of those questions, "How can we do this better? What do we need to do? We may even pay for them to take a trip to other places to see how it's being done better."
Locally, Delawareans can use this resource as a one stop shop for information on their state.
Rosenberg goes on, "It can be a real short cut for grant writers, for researchers, and for just even just regular old residents who want to find out about a community can sort of see that in one place."
In 2016, the Delaware Community Foundation plans to host a number of community discussions throughout the state to talk about the information on this website and get feedback.