70K raised for Alzheimer's support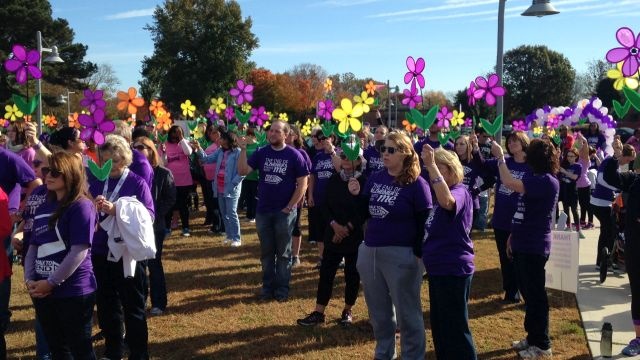 A sea of purple support flowed through several Salisbury streets on Saturday morning.
About 400 Eastern Shore residents came out for the Walk To End Alzheimer's event, in support of the Alzheimer's Association. The three-mile route started at the MAC Center on Progress Circle.   
Susan Purnell, a Salisbury resident, says there's one thing on her mind when she completes the walk.
"I hope a cure is discovered soon," She says.
Saturday marked Purnell's third time taking to the streets for Walk To End Alzheimer's.  It also marked ten months since her mother passed on Christmas Eve, after a 12 year battle with Alzheimer's. The progressive disease is described by the CDC as a type of dementia that causes problems with memory, thought processes and behavior.
"I'll always remember one thing when she thought she made coffee for me and she put all of her pills in the basket and poured water over it. That kind of thing…you don't remember how to do simple, everyday functions of life and I realize at that point in time, she needed somebody every step of the way." Explains Purnell.
Although her mom passed, Purnell continues to take steps toward a cure, joining millions across the country on this journey.
According to the Alzheimer's Association, there are currently an estimated 5.3 million Americans living with the disease. That number is expected to triple in the next 35 years. This is a daunting statistic that the Purnell family and the estimated 400 participating Eastern Shore residents aren't taking lying down.
"It's very genetic, I know." Explains Purnell, "I have a chance of getting it and I hope I don't have to live the next 12 years of my life not knowing who the people that I love are around me."
Carol Zimmerman is the Outreach and Development Coordinator of the Alzheimer Association on the Eastern Shore. She says Saturday's walk will not be the end of the fight for the cure.
"You can tell there's a lot of passion and enthusiasm about this, about curing and ending this disease." Says Zimmerman.
Zimmerman says funds will continue to be collected after Saturday's walk. For more information on how you can donate, click here.