47 ABC experience firearm simulator with Dover PD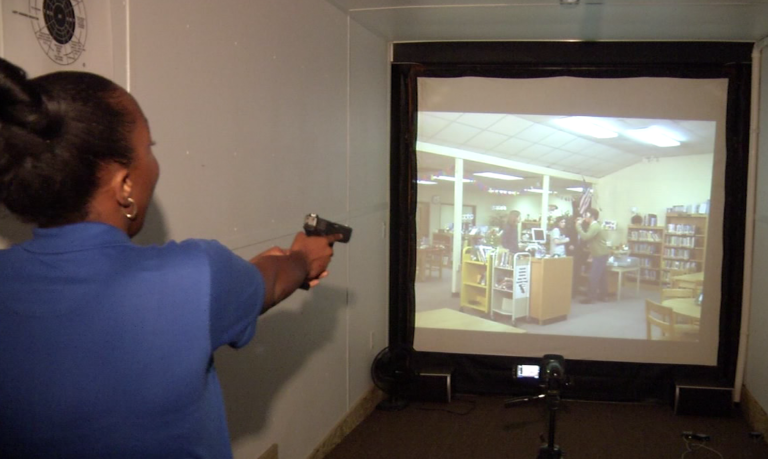 With 12 foot screens and guns, being inside the Delaware National Guard's "use of force" trailer at first sight might seem like a lot of fun and games. 
However, 47 ABC's Jobina Fortson found the experience to be hard; both cognitively and emotionally. She got to take part in the Dover Police Department's firearm and taser simulator training in the trailer on Tuesday.
First she had a little practice session with targets. She got five out of ten, which isn't the best score. After that, she advanced on to her first scenario.
In her first scenario, her cruiser is pulls up to a car and a hostile passenger hopped out of the car. She was so fixated on the hostile passenger that she didn't even notice a second passenger in the back seat was pulling out a weapon.
She wasn't hit by the shots they fired. Jobina fired back, but hesitated with her weapon. She didn't stop the passengers. Corporal Hoffman of Dover Police says she could have done was pull out the taser on the aggressive passenger.
He continues, "You could also draw your weapon and order every one with their hands out and radio for back up. Call for assistance and wait until they get there. If they present you with deadly force, your gun is already out."
In the second scenario, a student was threatening his classmates with a knife in a school library. He didn't respond to Jobina's commands. He had a lethal weapon, so she used lethal force. The student was taken down on the third shot. That leaves Jobina liable for the first two shots. If people were hurt while she was shooting, that would have come down on her.
Jobina's third scenario was not her strongest. A person known to be aggressive towards police approaches her vehicle. She should have proceeded with more caution, rather than solely relying on verbal communication. The driver pulled his weapon and fired. She was hit.
The last scenario was actually similar to something the Dover Police Department experienced a few years back. A suicidal subject was doused in lighter fluid. Jobina opted for the taser, but the electricity caused a tragic effect. She should have used verbal commands and called for back- up. No force was necessary.     
Members of the Dover Police Department are able to use this firearms and taser simulator once every year. It's a refresher that helps them prepare for these difficult scenarios in real life. For Jobina, this simulator made it quite clear, deciding when use of force is necessary is lot easier said than done.