Mexican Consulate and St. Mary's church offer services to Latino community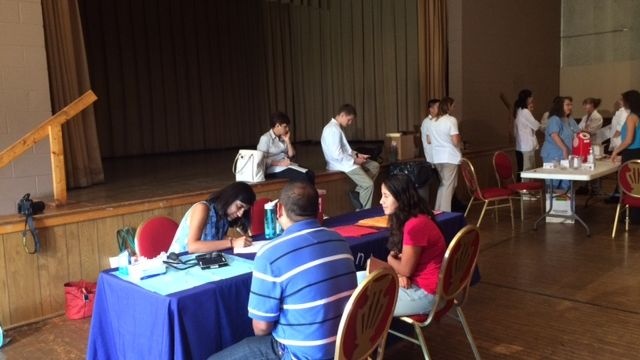 St. Mary's church in Cambridge hosted an event with the Mexican consulate to bring health, legal, and worker right's services to community members. The event was meant to target local members of the community, but most importantly the large population of seasonal workers that come from Mexico and Central America.
Organizers of the event say these services are important for seasonal workers when they come across issues on the job and need to look for government agencies to represent them.  Representatives from Walgreens, the Mexican Consulate, Department of Labor, and local immigration attorneys were in attendance Thursday evening.
Health officials gave free flue shots and were checking people's blood pressure. Members of the church say that seasonal workers fail to seek services in the United States because they know they are only here temporarily. However, sometimes seasonal workers on the Eastern Shore cannot go back to their countries of origin because they are undocumented.
Steven Planzer, an  immigration attorney in Salisbury says, "I try to get them their legal status which is usually in a form of not necessarily permit residence but that's one way sometimes it's just a work permit or sometimes just allow them to stay here temporarily."
Members of St. Mary's church hope to continue bringing these services to the Latino community and have more community members attend each time.