Looking at drug addiction as a disease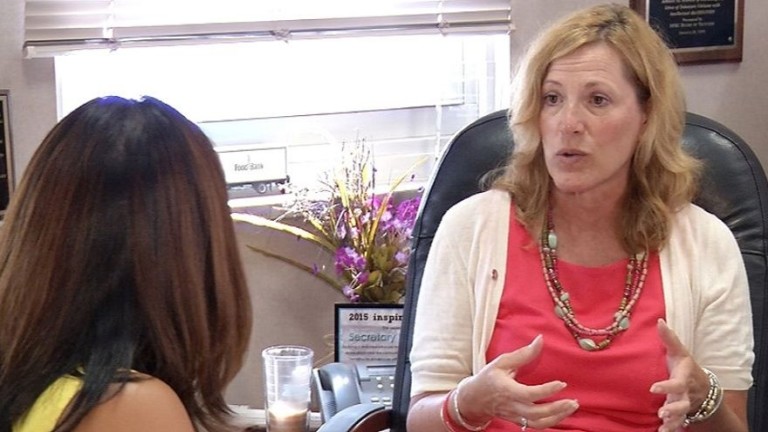 "I did rehab…did jail…did losing family members…friends. We went through all that," Sarah McCoy tells 47 ABC about her battle with heroin addiction. "It's evil, it is. If you believe in God, believe in the devil. Because that's what it is. It will take everything from you."
Sarah McCoy is a recovering heroin addict whose addiction started with prescription drugs. "The heroin was a lot cheaper. And before we were dealing, dibbling and dabbling, and dealing and everything. So it was there and it was just a lot cheaper, it was easier to get."
Sarah used for 8 years, "Until i found what the void was in my heart. Which is Jesus. That's when I was set free. We got connected with 3C USA. We have positive people pouring into us."
Sarah is now in recovery. She has been heroin free for more than two years now.
While participating in the "Shoulder to Shoulder" support group, she now advocates for a change in the drug treatment process. "We don't just wake up and say, 'I think I'll go and get some heroin today.' It's not how it happens, you know? It's a process of hurt, of pain, physical, mental, emotional — they have a void in their heart and thats what they're trying to fill it with."
And many health experts and rehab specialists agree with Sarah. They're trying to change the way people view drug addiction.
Delaware Department of Health and Social Services Secretary, Rita Landgraf, says the first step to saving lives is looking at addiction as a disease. "How do we also look at this from a health perspective and not a law enforcement (perspective)," says Landgraf. "So, how do we work with law enforcement in a meaningful way, so we an actually intervene and bring people into treatment sooner rather than later."
According to the CDC, from 2001 to 2013, there was a 5-fold increase in the total number of heroin overdose deaths across the nation. And that does not even take into account the prescription drug overdose deaths, which have tripled in that same time frame.
The president of Hudson Health Systems in Salisbury, Leslie Brown, tells 47 ABC 20 people who have graduated from their drug treatment program have overdosed soon after being released. We're told this often happens when an addict has gone through detox, dropping their heroin tolerance, and then returns to using the same amount they were using prior to treatment.
Brown says the problem is people aren't staying long enough in 24-hour in-patient treatment. Part of the issue is medicaid and insurance, which will only cover outpatient care. Medicaid also only provides for 14 days of detox. Most private insurance pays for 28 days.
"28 days is nothing when you talk about someone's behavior," says Cindy Shifler, with the Wicomico County Health Department. "You're trying to change their behavior. They've been doing this for how many years. 28 days isn't going to do it. I've talked to people who are in treatment. One thing does not work for everybody."
"We also know that people who are living in addiction have what we call co-occuring disorders," adds Sec. Landgraf. "They could be suffering from depression. They could be living with bi-polar disease. Or they could be living with schizophrenia."
Delaware is focused on educating doctors about the dangers of prescription drugs and addiction and how that information needs to be communicated to patients.
Sarah McCoy believes her addiction to heroin started with an addiction to pain killers, which she was prescribed after a car accident. She tells 47 ABC her doctor never warned her of the addictive nature of her pain pills.
In the past 5 years, in the state of Maryland alone, the number of heroin related deaths increased by more than 1-hundred percent, while heroin related emergency room visits more than tripled.
And now a number of other health issues are manifesting as a result of the heroin explosion. Delaware and Maryland health experts both say HIV and Hepatitis C rates are up. Which is why Delaware launched its needle exchange program that, for now, is only available in Wilmington
But giving drug addicts clean needles, in and of itself is mired in controversy. Just another issue compounding the problems surrounding addiction.
"This is a complex, complicated disease, that for far too long has not been recognized as a disease," says Landgraf. "So, we're doing a lot of catch up."
In part 5, 47 ABC wraps up the special report "Deadly Drugs on Delmarva" with a look at efforts to protect children and teens from heroin and prescription drug addiction.