Eastern Shore Dropouts: Somerset County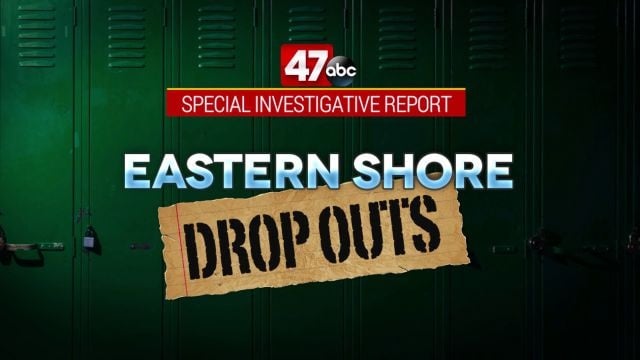 Somerset County, Maryland: "A gracious, less frenetic part of the world," as their website puts it, "It has miles of tidal bays and rivers, lush woodlands, and smogless skies."
But it can also be a tough place to live, and in Dr. John Gaddis, it also has a school superintendent who doesn't shy away from that fact.
"We are known for a lot of things you don't want to be known for: highest poverty rate, lowest family median income, lowest individual income, highest childhood obesity rate. That's fine, those are 'our things,' but, they can't be excuses," says Gaddis.
Dr. John Gaddis and Assistant Superintendent Tom Davis have a steep climb ahead. From 2010 to 2014, the State of Maryland's dropout rate, per class, steadily declined from 11.93% to 8.35%.
In Somerset County, it has been more variable, but always higher than the state rate. Varying from 19.91% for the Class of 2011 to 12.37% for the Class of 2014.
For the students who don't make it, the consequences are dire.
"Especially in today's economy, when we talk to the students we tell them, 'What are you gonna do? What jobs are there that you can go step into right now as a 16-year-old?'" says Gaddis.
The aftermath of dropping out — being less likely to find a job, more likely to be incarcerated, and expected to earn over ten-thousand dollars less per year than graduates — contributes to poverty.
But poverty is also seen as a cause of dropping out. And when you have a cause and an effect feeding each other, you have a cycle.
"When you have families that are in poverty, and you have a high school student who sees mom struggling, then you know, they might be tempted to get a job, so that they can help mom bring in some income so they can pay the electric bill. They can pay the rent. They can put food on the table. Maybe they have some younger siblings," says Tom Davis.
It's what education researchers call a "pull" factor. It's something outside of school, but inside the student, pulls the student away from academics, such as financial and family needs.
"People think, "Oh, they had 24 kids drop out, they're just 24 bad kids." Absolutely not, absolutely not. We have some very bright students that because of an economic or family situation, or some get in trouble. They drop out, it's not all low-performing kids. It's 24 students with unfortunate situations that we couldn't help correct," says Gaddis.
So how to break the cycle? Dr. Gaddis, who has a background in elementary education, and Mr. Davis who has worked in high schools, know the dropout problem starts well before high school. In their view, intervention can work, but only if teachers and mentors stay connected throughout a child's academic career.
"In the last couple years, we've taken a very different approach to this, because early education matters. And to take all your money and time and put it in a high school problem, and that's where it's seen, it's seen as a high school issue and it's not," says Gaddis.
When so many of the students are living in poverty, starting at a basic level of need, and providing services, is key. Therefore, all of the students in Somerset County receive meals at no cost. That's breakfast and lunch, every day, every student.
"When you're sitting in class and your stomach is rumbling, or it's a Friday and you know you won't get a good meal until that following Monday, things are gonna happen, discipline's gonna happen," Gaddis explains.
They started last school year, because of what they were seeing in past years in lunch lines. High schoolers who qualified for free and reduced price meals chose not to get them, likely because they felt singled out and understandably embarrassed.
"When it comes to free and reduced meals, your elementary students and your middle school students take that form, they take it, they turn it in. They don't care. When you get to high school, you are not going to stand in that line, and punch in that number that says 'you get a free meal.' The social stigma that becomes attached to you when you're in high school to do that, we really thought was an issue," says Gaddis.
Last year, the county served over 100,000 additional meals compared to the year before.
"We believe discipline, academic achievement, other positive factors by looking at the numbers, increased," says Gaddis.
It was a major change, and in a county whose official motto is "Semper eadem" ("Always the same") – a major victory. The biggest spike was in high schools.
"That was the biggest increase. That was a surprise to me, but I understood it. I understood it being a high school principal. I understood it because a lot of children, they're not gonna go through the lunch line," says Davis.
It was also a financial windfall.
After a $71,695 deficit the year before, the food and nutrition services program profited last year $78,000, because of reimbursements under a federal program for districts with at least 40% of students below the poverty line. That's a $149,695 swing, out of the red and into black.
Not only has it kept kids fed and saved county dollars it has saved families money: $610 per year per student.
"If you bought lunch every single day that's what it would cost a parent. A lot of parents struggle to even put that together. Now they don't have to worry about that. Now that can go pay a cable bill, pay an electric bill," says Gaddis.
The program is a success but food alone isn't going to keep kids from dropping out.
"I think we have to change the mindset too, in our county, and that is the pre-K through twelve matters," says Gaddis.
Dr. Gaddis explains that to engage students and families, the county uses robo-calls to make sure parents know about things. They also use social media and backpack mail. They use old media as well, television and radio.
"But I think what we have to do is build the relationship with the parents, and we continually say within our county, 'Education matters, education is important," he said.
Part of engaging students and parents comes in the form of Naviance, a software program that helps students plan their future. It's also used in neighboring Wicomico County.
All students start a profile in sixth grade but Dr. Gaddis says educators need to stay focused and in touch with students throughout what he calls a critical time, 9th grade:
"We've got to have a plan through graduation, but we've really got to focus on that 9th grade year. And that checkmark of [saying to the student], 'Okay, where are you at the end of 9th grade? Do we need to see you during the summer, for a remediation course?"
A 9th grader in Maryland this year won't be allowed to drop out of school until he or she is 18. It's part of a law, passed in 2012, just now kicking in. The minimum dropout age has gone from 16 up to 17. It will increase again in the 2017-2018 school year.
"It's going to be case-by-case. I want to be positive about it but the reality of the situation is if a student has set in their mind, that they're just going to drop, I still believe they're going to drop, and we're still going to provide the interventions and do what we can to help," says Gaddis.
Both Dr. Gaddis and Mr. Davis say they're not being negative about the law's potential effects — just realistic. And when it comes down to it, for them, and all their teachers and mentors, keeping kids in school is not about a piece of legislation but real, human interaction with each student.
"We're trying to customize whatever we can to help these high risk drop outs because we're starting to see that what the student, after 9th grade…you start to look at family history, you know what may be coming, so what can we do to work with that child, but also again working with the family, understanding their circumstances and customize it working within the confines of the school system, the student can get that degree," says Gaddis.
A big part of demonstrating a vision for the child's future is taking them to a college campus, which in Somerset County, happens in 5th grade.
"Any kind of early exposure, starts that conversation about [hypothetically speaking to a student] "You can do this. You're in 5th grade right now, you're on honor roll, you've worked hard to get this. Next year when you're in Naviance, and you start planning what your goals are, this can be one of your goals," says Gaddis.