State agencies submit findings on Overbrook Town Center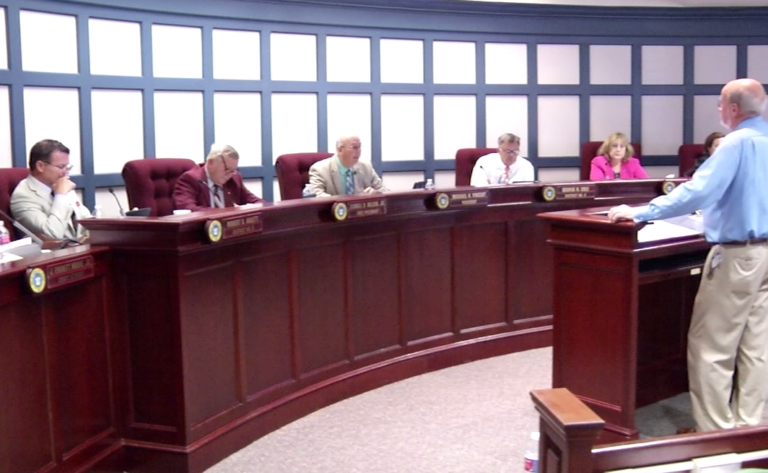 47 ABC has been following the development of the proposed Overbrook Town Center in Sussex County for almost a year now. However, it appears progress on this massive shopping plaza proposed for Milton is now at a standstill.
Kenneth Hopkins says, "It's literally going to be in my front door."
Hopkins is talking about the proposal to build the Overbrook Town Center. His drive way would run right through the center's property if built. 
The proposed shopping center would be eight-hundred and forty-nine thousand square feet with more than five-thousand parking spaces if a zoning request is approved.
It's near the intersection of Route One and Cave Neck Road. Hopkins goes on, "It's going to devastate Sussex county."
Richard Holtcamp says, "It's a drastic change to go from agricultural to a major shopping center which is what they're proposing."
Hopkins and Richard Holtcamp are members of the Overbrook Town Center Coalition. They and other residents made their concerns clear during a public hearing with the Sussex County Council back in June.
At that meeting, the council voted to have state agencies evaluate the impact of the shopping center. Tuesday, they presented the findings from DelDot, the FAA, the Delaware Department of Agriculture, and a local attorney.
Hopkins says, "Crop dusting business. You know he's not going to spray his three farms. It's going to change the way all the farmers producing and take care of their crops."
That information was included in the Department of Agriculture's letter. The FAA noted that aircrafts conducting agricultural spraying may not be able to fly over the area. DelDOT says it would be difficult for drivers trying to make turns onto the main road and mentioned other traffic safety hazards. The attorney's office says the land is actually within an Environmentally Sensitive Developing Area.
Holtcamp continues, "We understand there are going to be changes and there's going to be growth and development in the area. We're not opposed to that, but we want to make sure it's much more comprehensive."
Supporters of the shopping center say it has the ability to bring additional retail jobs and tax revenue to the area. 
However, folks like Holtcamp say that's just not enough to justify it. They hope these findings presented to the council will be enough to stop the project from moving forward.
The council announced a fifteen day period starting Tuesday for public comment on the documents provided by these different agencies.
Anyone that wants to view them can get them in the planning and zoning office in Georgetown.