Salisbury University gifted Plaza Gallery Building by local developers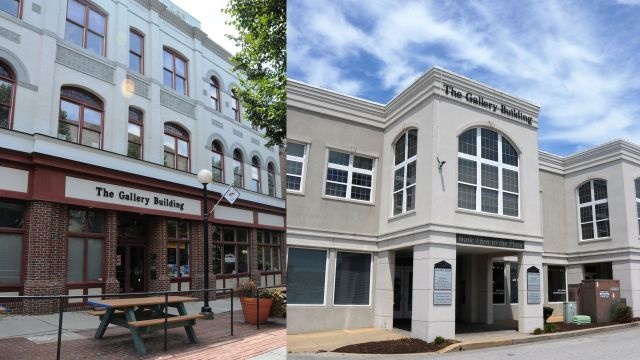 A local university has received the gift of a building, from a set local developers. Salisbury University announced on Wednesday that Palmer Gillis and Tony Gilkerson of Gillis and Gilkerson, will donate the Plaza Gallery Building and Annex, to the Salisbury University Foundation, Inc.. The building sits on West Main Street, and is reportedly valued at some $4.4 million.
"Salisbury University is a pillar of this community," said Gillis. "It is critical for the City of Salisbury and downtown revitalization efforts that the University have a presence and footprint on Main Street. We want students, faculty, staff and other University visitors to know they are welcome in the very heart of our community there. SU and downtown Salisbury have been keys to the city's historical prosperity, and both will continue to be instrumental in Salisbury's future. There's no better use of our building than expanding the University's presence in one of the city's fastest growing areas."
"We are delighted that Palmer and Tony Gilkerson have decided to entrust the Salisbury University Foundation with the stewardship of this historical building," said SU President Janet Dudley-Eshbach. "We have seen exciting things happen in downtown Salisbury in recent years, and we are happy to have the opportunity to play a larger role in the revitalization of our city."
The Gallery Building is a four-story, 60,000-square foot building includes retail, office and residential areas, including the non-profit Art Institute & Gallery, as well as congressional offices and Maya Bella's Pizzeria. The SU Foundation will reportedly honor all existing lease arrangements. Gillis and Gilkerson purchases the then vacant F.W. Woolworth Co. property in 1992, and renovated it to how it stands today. It is located just down the street from the SU Art Galleries Downtown Campus on North Division Street that was opened in 2013.
The Gallery Building will not be the first SU affiliated building that will have mixed use, including outside retailers, as Sea Gull Square, which opened in 2011, has successfully incorporate ground-floor retail space. Potential uses by the university for the building reportedly include enhancing cultural and extra-curricular education offerings, providing support for young entrepreneurs, and developing engagement opportunities for retirees, volunteers and other community members.
The acquisition of the Gallery Building is apparently being facilitated through SU Foundation, and the procurement will be pending USM Board of Regents approval. "As the transfer process continues, a working group at SU will begin to develop framework for the use and function of the building that supports the needs of the University and encourages downtown revitalization, investment and growth," said T. Greg Prince, SU vice president of university advancement and external affairs, and executive director of the SU Foundation.
Officials say a bike path, and a limited-hour trolley, which runs as a partnership between SU, the City of Salisbury, Wicomico County, the Tri-County Council and Shore Transit, have both been large parts in bringing SU students to the downtown area.