DE correctional officers undergo Crisis Intervention Training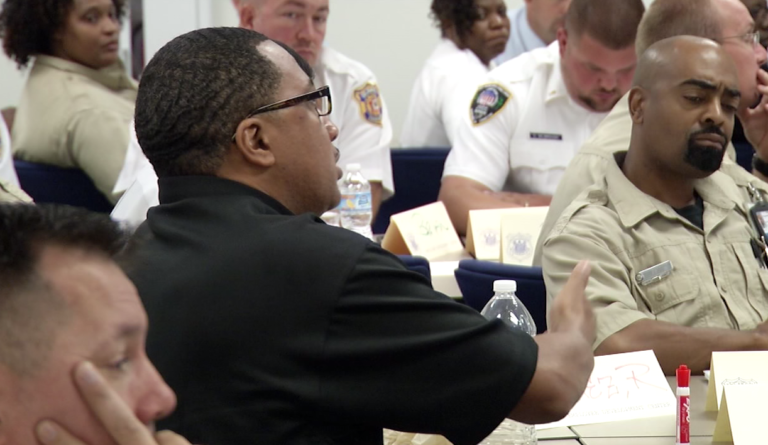 55 officers with the Delaware Department of Corrections who have direct contact with inmates on a daily basis began a brand new week-long program Monday.
Judith Caprio, the Director of Behavioral Health with the Delaware Department of Corrections says, "They work with a difficult and resistant population every single day. I think if we can give them tools to help them deal with that population, I think they'll be eager to have that."
Those tools are being provided through a crisis intervention training program focused on assessing and treating the mental health needs of prisoners.
According to officials, of the 6,000 inmates in Delaware, more than half suffer from mental illness at some level.
Robert Coupe, the Delaware Department of Corrections Commissioner says, "One of the challenges that we face here at DOC is that the way we're set up, We expect our officers to be a jack of all trades. We expect them to know a little bit about a lot of things. What I would like to move towards is expertise in certain areas."
That move is where Dr. Clarence Watson comes in. He's teaching these correctional officers how to identify the risk of violence among offenders. He's also teaching them how to distinguish the differences between a psychiatric disorder, personality structure, and when someone is acting out as a result of substance abuse.
Dr. Watson says, "What it would do is reduce any frustration on the part of the correctional officers who may not understand what is happening with a particular inmate or prisoner. On the other hand, it also gets the person the treatment they need."
Prison officials tell 47 ABC they want to make it clear this training is not a result of the lawsuit filed on August 6th by the ACLU and CLASI. The law suit is alleging Delaware prison officials of unconstitutionally subjecting mentally ill prisoners to solitary confinement without proper evaluation or treatment.
They've apparently been working to develop the crisis intervention training program since 2013. As far as the lawsuit, they say they know they need to do better.
Coupe continues, "We do not plan to wait. Our plan is to continue on that path that we're on and that is to address these issues and concerns."
Officials say this week long program is only the beginning of more to come. The DOC have about 1,700 correctional officers and would like everyone to train to handle mentally ill inmates. However, they may not all be forty hours like the one that took place Monday. Officials are looking at the option of an eight hour course. However as of right now, those details are still being worked out.
As far as the solitary confinement issue, DOC officials say they supported a resolution that passed this year calling for a study of restrictive housing practices such as solitary. Recommendations from that study are due at the end of this year.