Coons speaks on Iran and 2016 election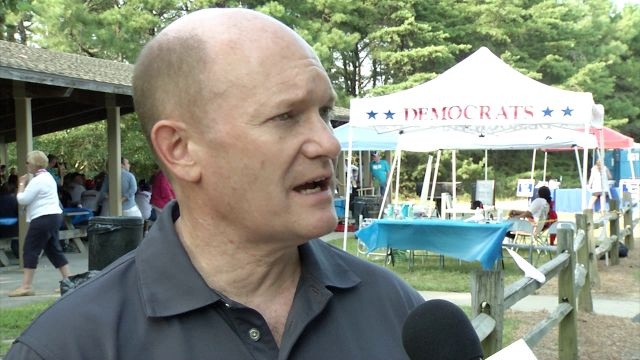 During the Sussex County Democratic Jamboree at Cape Henlopen State Park, 47 ABC was able to speak with Sen. Chris Coons about the 2016 election and his position on the Iran Nuclear Deal.
During the Jamboree, Vice President Joe Biden made an unexpected appearance and took the time to thank those in attendance for the support they have showed his family through his son Beau's sickness and eventual passing. 
Coons said he was touched by Biden's speech and applauded him for speaking so openly on the matter. However Coons, like many others in attendance, admitted he had hoped Biden would announce his candidacy for the 2016 presidential election. Coons said he would again endorse the Delaware native if he decides to run and added that Biden is one the nation's strongest leaders in foreign policy and national security. 
While on the topic of national security and foreign policy, Coons said he received a lot of input from both colleagues and supporters about his position on the Iran Nuclear Deal at the function. Although Coons said he will stand by President Barack Obama, he admitted he has still not made a final decision on the deal.
  
"There's lots of commentary on (the nuclear deal)," Coons said. "I've been calling and talking with other senators of both parties and I'm looking forward to some more time with the Vice President this weekend to talk about it further before I make an announcement next week."
As for whether his colleague Rep. John Carney would run for the governor's seat in Delaware, Coons said Carney would make that announcement once he has fully recovered from hip surgery. Coons said he has never been more impressed with Carney then he was during the last congressional session.