Beating the Heroin Epidemic: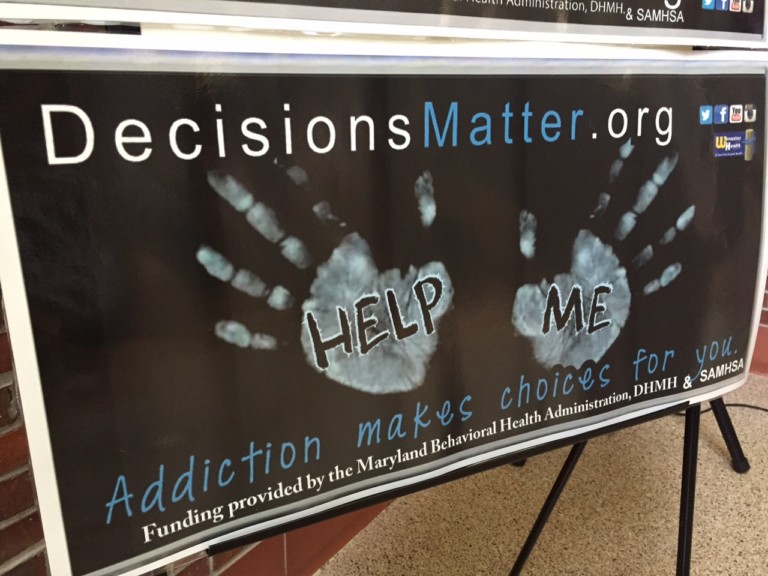 It's a scenario playing out all across the country. Health experts and government leaders trying to find new ways to address the heroin epidemic.
But Tuesday, in Worcester County, instead of talking about drug busts and treating overdoses, the county's leaders were focused on their new awareness campaign, called "Decisions Matter".
At a press conference, at the Worcester County Sheriff's Office, Col. Doug Dods explained how the campaign targets parents and their kids. Dods is the chair of the Worcester County Drug and Alcohol Council.
In terms of parents, the county hopes to educate adults about how to secure prescription drugs in the home, so young people can't get a hold of it. And when the drugs are expired or when they aren't needed anymore, the campaign promotes the proper disposal of the medications in one of the three prescription drug drop off locations in Worcester County.
One of those drug drop boxes is brand new; unveiled at Tuesday's press conference.
It's located in the lobby of the Worcester County Sheriff's Office. And folks can drop off medications any time of day, since the outer doors to the lobby are always open.
The two other 24-hour drug drop boxes are located at the Ocean Pines Police Department and the Ocean City Police Department.
Figuring out the message for kids and teens was a bit more tricky.
In order to find out how best to reach young people with their campaign message, Marty Pusey, Director of Prevention Services tells 47 ABC the Worcester County Health Department organized 2 focus groups, one at Snow Hill High School and the other at Pocomoke High School.
The teens explained that the scare tactics of past drug and alcohol awareness campaigns won't work. And after talking with the students, folks with the health department concluded that young people value the freedom to make their own decisions.
For that reason, Worcester Co. Health Officer, Debbie Goeller says the "Decisions Matter" campaign highlights how an addiction to heroin can take that freedom away, "Once you become addicted to a substance, which starts with using a substance, then you lose the ability to make decisions, because the addiction is making decisions for you."
"We're trying to use a common sense approach," explains Worcester County State's Attorney, Beau Ogelsby. "We know that there are protocols in place dealing with dependence to these drugs. There are protocols in place dealing with overdoses themselves. We wanted to think small picture, as far as something obtainable. A goal that was obtainable."
According to the National Survey on Drug Use and Health (2011-2013), people addicted to prescription opioid painkillers are 40 times more likely to be addicted to heroin. Health experts say this is why there is such a focus on educating kids and parents on the highly addictive nature of prescription drugs, and how addicts then fall prey to heroin, cheaper and easier to obtain option.
According Marty Pusey, Director of Prevention Services, Worcester County experienced a drastic spike in heroin use between 2011 and 2012. That's an 80% increase. A Maryland Youth Risk Behavior study, conducted in 2013, found that 7.4% of 12th graders had used heroin at least once.
Pusey says she feel confident this campaign will strike a cord with young people and help bring those troubling figures down. "The anti-tobacco campaigns have completely changed our culture around the issue of tobacco and smoking," Pusey tells 47 ABC, "and we're hoping to do the same sort of thing here."
For more information about this new heroin awareness campaign in Worcester County, visit DecisionsMatter.org or call the Worcester County Health Department at 410-632-0056.