U.S. Coast Guard explains laser strike dangers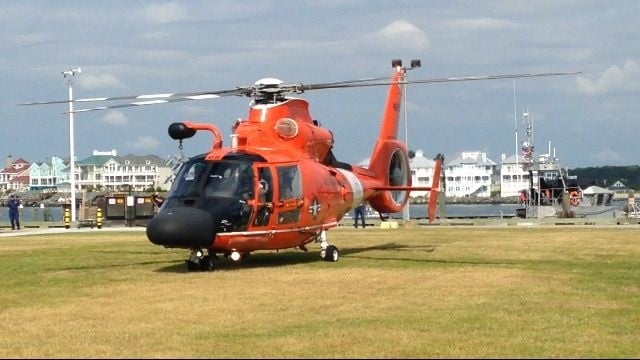 A hand-held laser can both be entertaining and utilitarian if used properly or in the correct setting, but pointing one at a plane in the sky can pose a major threat.
According to the Federal Aviation Administration (FAA) there were 3,894 laser incidents reported nationwide in 2014.
A helicopter crew from the Coast Guard Air Station in Atlantic City, New Jersey landed a MH-65 Dolphin helicopter at the Coast Guard station in Ocean City on Tuesday to discuss laser strike dangers.
Lieutenant Shawn Chauvot of the U.S. Coast Guard admits he has never experienced a laser strike first hand, but he explains what he's been trained to look out for. He describes a laser strike as an immediate blindness.
"Obviously if you've ever been at night and looked into a bright light and you moved away from that, you have green glow." Lieutenant Chavout explains, "That can stay with you for a while, which you can expect if you're flying low and a critical phase of flight, that can disrupt what we're doing pretty bad."
Lieutenant Sean Glavan is a helicopter pilot with the Coast Guard and has about 13 years of helicopter-flying experience. He has been with the Coast Guard for about five years explains flight rules say the aircraft must abort its mission following a laser strike.
"Anytime a laser strike happens, we have to take time away from that mission and there's a checklist inside the aircraft." Lieutenant Glavan explains, "If everything's good, we can continue on but you've already distracted us and you've already cost us time."
If you're caught aiming a laser at an aircraft, that's a federal offense.
"You can be charged up to quarter of million dollars and twenty years in jail and in addition to that, there's a civil fine from the FAA that can up to 11,000 dollars." says Lieutenant Chavout.
Because of recent reports of lasers being beamed at aircraft over New Jersey and New York, the FBI and the FAA are currently looking into what has been called a laser assault.
For more, visit this story on ABC.