Three arrested, six wanted in large rental theft scheme apparently centered in Smyrna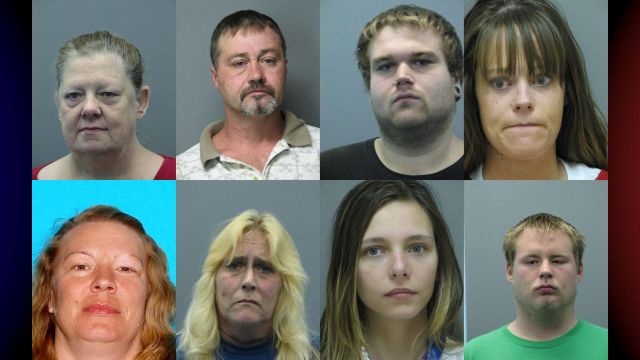 Police in Smyrna say they have wrapped up a nine month long investigation into rental theft scheme that apparently spanned not only the nation, but an ocean as well.
Smyrna Police say back in November 2014, they looked into reports of a rental scam from a Florida woman, who said that she had found an ad for a rental home online, and after speaking with 63-year-old Verna Nowell, she sent a check to Smyrna, Delaware. When Police questioned Nowell about it, she reportedly told them that she knew nothing of it, and that her identity had been stolen.
Detectives say they continued to investigate, and in January, a person in Texas contacted them with a similar story. The man had apparently found his own home for rent online on Trulia.com, when it was not. When the man contacted the the person posting the ad, who said that the rental agreement and keys would be mailed to him, as soon as they received $2,300 for the owner/landlord in Smyrna. The Texas victim was apparently able to get the information the Detectives needed, leading to the arrest of 21-year-old Dustin Brennan, of Smyrna, on an attempted theft by false pretense charge.
Police say it was at this point that they started a more in-depth investigation into these thefts, during which they were contacted by police agencies as far away as California and Illinois, reporting victims in those states whom had sent money to Smyrna, for what they believed to be rental properties. There have apparently been more than 35 victims identified in the scheme, with more than $150,200 changing hands.
Police say their investigation showed that Nowell was the center of the rental theft scheme, and that they were able to identify several other suspects including Ronald D. Miles Sr., 48, and Ronald D. Miles Jr., 21, both of Smyrna; Nowell's grandson 18-year-old Chase Madden, of Townsend; Barbara McBride, 52, of Smyrna; Cory Bynaker, 22, of Smyrna; Kimberly Draper, 37, of Clayton; and Shirley Watson, 44, of Townsend.
Detectives say they learned Nowell met people in Lagos, Nigeria on an online dating site, and eventually agreed to take money from unsuspecting victims all over the country, and after keeping a portion for herself, she would send that money from the United States to Nigeria, via Western Union and MoneyGram. The scheme in Smyrna is apparently just a part of an elaborate rental theft scam, where people outside the US were taking either legitimate ads for rental properties, or copying information from other sites, and then re-posting the information on craigslist and trulia.com, posing as the landlords/owner of the properties, while using their American counterpart's names.
Once someone responded to the ad, they would then be told to wire the money to one of the eight individuals uncovered in the investigation, who would then collect it at various Western Union and MoneyGram locations up and down the state, in an apparent attempt to conceal suspicious activity. Police say everyone involved were also very cautious about how much money was sent or received at each transaction, or the total amount per day. Once those accused took their portion, they would apparently send it out of the country.
Police say at one point, Nowell was flagged by Western Union and MoneyGram for suspicious activity. This is apparently when she brought in several associates and family members, to help her cash the money orders, before sending the money overseas.
On Friday, Nowell was arrested by Smyrna Police for racketeering, money laundering, theft $1500 or greater, conspiracy 2nd degree, and falsely reporting an incident to police, and released after posting a $28,000 bond. Miles Jr. was also arrested on Friday, and was charged with money laundering, theft $1500 or greater and conspiracy 2nd degree. He is being held at the James T. Vaughn Correctional Center on a $14,000 secured bail.
Police say at this time, they have warrants out for Miles Sr., Madden, McBride, Bynaker, Draper, and Watson, all on money laundering, theft $1500 or greater and conspiracy 2nd degree.
Anyone with information about this incident, or the whereabouts of those who are wanted, should contact The Smyrna Police Department at 302-653-9217.