Hope on the horizon: Awareness & Research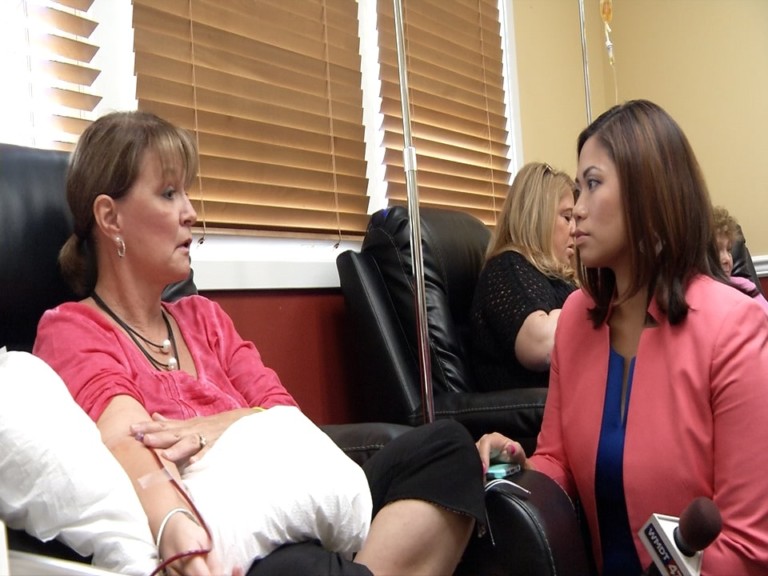 Right now, a drug company out of Austria is clinically testing a new Universal Lyme Vaccine for humans. They made the announcement in 2013, but it's still not clear if and when it will be ready for distribution.
There was another Lyme vaccine approved by the FDA back in 1998, called LYMErix, but it was taken off the market about 4 years later due to allegations of side effects and a steep decline in vaccine sales.
While the world waits for a human vaccine, it appears there is already a Lyme vaccine out there for mice, which is showing some promise.
Apparently, studies have shown that a high percentage of ticks that feed on the vaccinated mice are cleared of Lyme disease. The hope is that reducing the number of infected ticks will help cut down the number of new cases. But critics argue that this vaccination does not address co-infections.
The Delaware Lyme Disease Task Force is still considering this as part of their proposal for statewide management of tick-host animals.
And although it remains to be seen what will happen with the task force recommendations, Lyme patients who participated in the task force meetings admit they are hopeful.
Currently Delaware legislators are out of session, and will be drafting legislation pertaining to the recommendations in the task force Final Report. Lauren Cutajar-Wynne, Senior Legislative Aide to Leadership in the House Democratic Caucus, tells us that not all of the recommendations require legislation to move them forward. From now, until law makers return to session in January 2016, they will be looking for possible funding sources for things like the public awareness campaign.
But Delaware isn't the only state making strides to take down tick-borne infections. Currently the state of Maryland has a public awareness campaign called "Get Ticked Off". 
And this year, several states introduced new legislation relating to Lyme disease
Connecticut proposed allocating 450-thousand dollars in funding for Lyme disease prevention programs.
New Hampshire introduced legislation declaring May Lyme Disease Awareness Month in perpetuity. The bill also requires the state department of health and human services to include information on it's website.
Maine introduced legislation that would "prohibit the Board of Licensure in Medicine from disciplining a physician or revoking or suspending a physician's license for prescribing, administering or dispensing long-term antibiotic therapy to a patient with acute, persistent or chronic Lyme disease if the therapy was pursuant to a treatment plan recommended by the United States Department of Health and Human Services, Centers for Disease Control and Prevention (CDC) that considered the patient's individual circumstance or was in the best judgment of the physician with respect to the particular patient or special clinical situation."
Oregon also introduced legislation directing the Oregon Medical Board and Oregon State Board of Nursing to adopt rules regarding the diagnosis and treatment of Lyme disease.
In March 2015, the International Lyme and Associated Diseases Society (ILADS) launched the "Take a Bite out of Lyme Disease" campaign. The #LymeDiseaseChallenge follows the ALS Ice Bucket Challenge model by having participants challenge each other on social media to take a bite out of a lime and donate $10 to research and education. Participants who refuse must donate $100 to ILADS educational fund.
The Lyme Disease Association of the Eastern Shore of Maryland will be hosting a half-day conference Friday, July 24, 2015 – 1pm to 5pm – at the Hyatt Regency Chesapeake Bay resort in Cambridge, Maryland. We're told it's designed to assist medical professionals with the diagnosis and treatment of Bartonella. 
In terms of current tick-borne disease research, 47 ABC contacted The National Institutes of Health (NIH), which directed us to The National Institute of Allergy and Infectious Diseases (NIAID). A spokesperson tells us their current Lyme disease research portfolio is extensive and diverse, encompassing basic and clinical research studies conducted by extramural and intramural investigators, including intramural scientists at NIAID's Rocky Mountain Laboratories in Hamilton, Montana, as well as at NIAID laboratories in Bethesda, Maryland. Ongoing activities by NIAID intramural scientists can be found at the Division of Intramural Research. Click here for the link they provided to find the research at NIAID labs. And you can browse current and past NIH funded research using the NIH Project Reporter search tool. For a list of FDA supported clinical trials, click here.
47 ABC put in a number of media requests to interview researchers at the CDC, The National Institutes of Health, Johns Hopkins University, The Medical Society of Delaware, The National Institute of Allergy and Infectious Diseases, as well as a number of diagnostic clinics around the country. Although discussed tick-borne diseases over the phone, nearly all turned down the opportunity for a recorded or on-camera interview. Some simply did not return our phone calls or e-mail messages.
Join us on Facebook and Twitter to comment on this 47 ABC Special Report, or to discuss other issues you believe might be valuable to this dialogue.