Changing police enforcement in Georgetown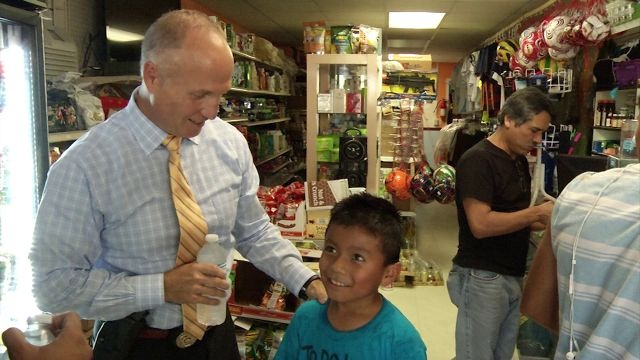 Last year in Georgetown, Del. there was a spike in crime and last month a new police chief, Randall Hughes, took over.  47 ABC spoke with Randall Hughes on his second day on the job and now, a month later checked back in.
Although a month is not enough time to notice a statistical trend it is enough time for a community to respond to a more engaged police force according to locals.
Along with Hughes came the practice of community policing, something that so far has gone well in Georgetown.
"We have been out engaging the public extensively I try to go out every day to go out and have some conversations," Hughes told 47 ABC. "I like to take the opportunity to go ahead and talk to some other folks that are around in the neighborhood and talk to them you know why were there, why we're doing it, also let them know how they can help us."
Hughes said he gives out his cellphone number most of the time when he goes out on complaint calls with his officers, already he says he's received calls from many satisfied neighbors.
One of the many bright spots since Hughes has taken the helm, is the Classic Motel. Last year during a rough six-month stretch from June to the end of December, police averaged 17 visits per month. Over the past month police have only had to visit the establishment twice.
Hughes says he alone is not to thank for this decrease and rather attributes the drop in crime to the work of his predecessor, the mayor and the police force as a whole. 
"I think I'm getting to be the benefactor of a lot of that hard work since we last talked about 30 days I think we've had two incidents at the classic motel and actually they were the management calling us to tell us about something," Hughes said.
Hughes said the main driver of crime in the area is drugs and that often drug addicts looking to for cash will rob small locally owned establishments.
Charlie Koskey, owner of Chardon Ltd. Fine Jewelry and Gifts, says he's happy Hughes has introduced the idea of community policing to Georgetown because he believes it allows the police to have a better grip on crime.
Koskey said he's excited for the future under Hughes and believes the community is ready to do their part as well.
"I look forward to working with chief Hughes and I know that he's going to bring a lot to the community," Koskey said. "Having been a Georgetown individual I think he feels right at home and he's willing to do what it takes to help his neighbors and as well as his friends."