Recent Delmarva Rain Wipes Out Drought Fears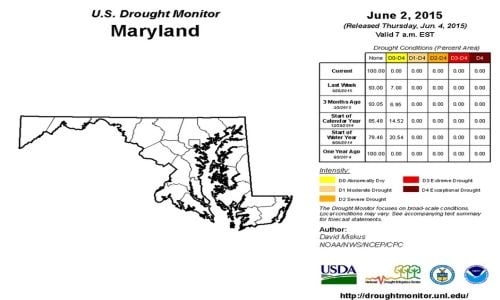 There had been some talk lately about how dry it was across Delmarva and that some were mentioning a potential drought. The truth is that we were not close to a drought. Yes, Delmarva was drier than normal (almost a 2 inch deficit) and did need some rain. Well, the rain arrived and now it has eased concerns.
Maryland's drought monitor just a few days ago had parts of Maryland in the D0 category which is "abnormally dry." Now the entire state has been replenished in terms of rainfall and there are no abnormally dry areas. 
Salisbury was almost 2″ below normal for precipitation when we entered the month of June. The rain of the past couple days has totaled to almost 2 inches, so we are right around average for the year now and above average for the month of June.
You can monitor precipitation and the drought monitor for Maryland at by clicking here.
-Daniel