Final goodbye to Beau Biden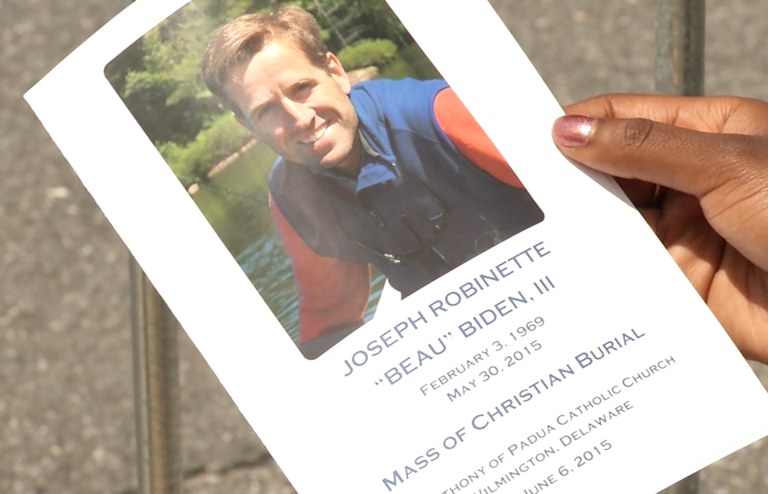 It was a somber day on Delmarva as former Delaware Attorney General and our Vice President's son, Beau Biden was officially laid to rest in Delaware.
There were one thousand people inside the public service at St. Anthony of Padua Catholic Church paying their respects to the Biden family. The building was so packed that it reached  capacity. Many weren't able to get inside, but still stayed to show their support.
The sound of bagpipes and the slow trot of horses guided the hearse of former Delaware Attorney General Beau Biden down the streets of Wilmington Saturday.
Najma Landis says, "I don't know if there was a dry eye around that was watching it."
On Saturday May 30th, 46- year- old Beau Biden, son of Vice President Joe Biden died from complications of brain cancer.
A week later his body was laid to rest. Guests ranged from the Clintons to President Obama, who gave an emotional eulogy.
Beau Biden's funeral wasn't only filled with prominent figures, but members of the public as well. Some called the event the "people's funeral."
Shirley Babe says, "Delaware is such a small state and we're all connected one way or the other."
47 ABC found that statement to be true when we moved about the crowd outside the church.
Babe continues, "My son's high school teacher was Jill Biden. That was really  interesting and a lot of fun to know her at that time."
Gary Waters says, "Beau Biden was a real gentleman. I worked for him and his dad. I worked on the campaign and they got me down to D.C."
Michael Arcierno had been friends with Beau and Hunter Biden since the fourth grade.
He goes on,"They lost their mother in a car accident and their sister and daughter during Christmas time. I lost my mother in a car accident during Christmas time. We had this connection from the beginning."
Beau Biden was known for his dedication to protecting children, his patriotism as a major serving in the Delaware Army National Guard. However, above all else, it was clear he was a family man.
Shanda Rudd says, "Beau was a great man and a great father."
All of those traits are those Delawareans say they will miss, but proud they witnessed.
Beau Biden was buried at St. Joseph on the Brandywine Cemetery in Greenville Delaware. It's his final resting place, but not the end of the impact Biden's legacy had on Delaware.