DE legislators sign bill to help students with learning disabilities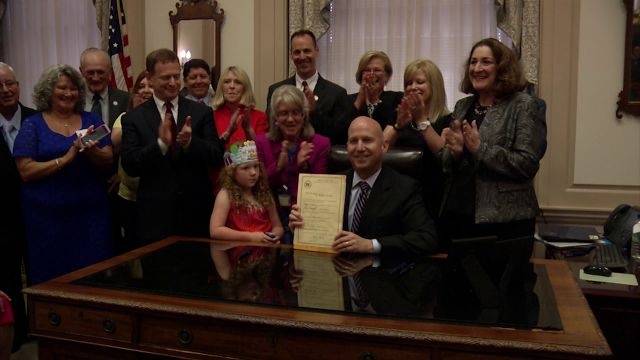 Education is important, some argue, it's everything. But what if you don't learn the same way as everyone else? On Thursday, Delaware Governor Jack Markell signed into law a measure geared toward helping students with learning disabilities. Just before the actual signing of the bill, Governor Markell said when it was first introduced, there were actually tears of happiness from many.
The measure implements recommendations from an IEP task force. According to Attorney General Matt Denn, 15% of kids in Delaware public schools have disabilities. The program ensures each child has a specialized learning experience according to their needs.
Attorney General Matt Denn and he tells 47 ABC, "This bill is designed to make that process work better to make sure that parents understand what to expect coming into it, that the process is fair for parents and ultimately that kids get what they need to get to succeed in school."
The IEP task force started last July before presenting their recommendations for improvements in December. Under the new law, charter schools will have to have a designated person in charge of the program. Each school district will also have to form a council of parents of students with disabilities. The goal is to ensure special needs kids are getting the most out of their educational experience.
Denn tells 47 ABC, "We need to make sure we're doing for them what they need to be able to fulfill their potential, that's the end goal of all this to make sure that we're taking care of these kids as they deserve."
47 ABC also spoke with parent and program task force member Shawn Rohe, who tells us she is incredibly grateful to have this bill signed into law. Rohe's four year old daughter Natalie has Down syndrome and the law ensures all kids in Delaware are given fair advantages.
Rohe tells 47 ABC, "My daughter, I work hard with her from the very beginning you know early intervention is key but I raise the bar for her and I gave higher standards and it's nice to know within the school system they're going to do the same. Hold your standards high for them because they definitely, our children can achieve so much."
Denn says this has been a long process in the making and is definitely a step in the right direction. While some school districts already had programs, this new law ensures needs are being met statewide.