Blue Star: App that helps track your diabetes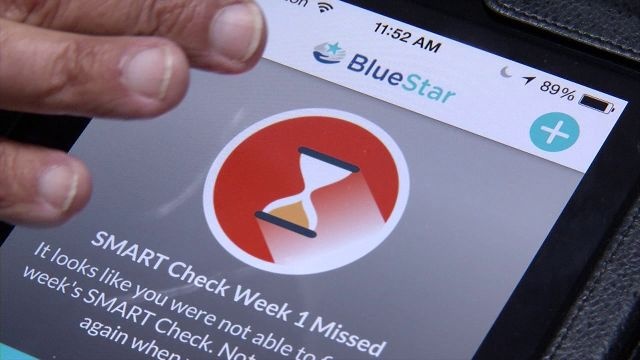 For those dealing with diabetes, it can be a daily struggle to keep up with medications and also sticking to a healthy diet. But now you can get help with all of that and more, on your smartphone.
It's called the Blue Star diabetes app. It's designed to help you record blood sugar level numbers, which medications you've taken or need to take, and it also counts the amount of carbohydrates you've consumed.
47 ABC spoke with John Motsko, diabetes educator and coordinator of the diabetes education program at Apple Discount Drugs, and he tells us, "If they can use an app, if they can use something like Facebook or something like that, they can use this application very easily."
Blue Star is a helpful tool, but even Motsko says it's only as effective as the person using it.
Motsko tells 47 ABC, "They are the most important player in their managing of their diabetes, their doctors a coach, I'm a coach, but they're the ones that have to make day to day decisions."
Esther Dwyer understands that. She was diagnosed with diabetes back in 2000 and she says her biggest obstacle is keeping in control. Even though she's only used the app for one week, she says she's excited about how it could help her.
Dwyer tells 47 ABC, "It's very important for me to be able to use this application to stay on top of my eating habits. I decided I wanted to get better control of my diabetes, get better control of my blood sugars, and definitely try to find a program that will help me to lose weight."
Blue Star is not like other apps because patients have to go through their health care provider to activate it. Once they do, they can use it free of charge, and sync it on as many as 3 devices. Once it's up and running, patients can re-order medication, ask experts questions, watch motivational videos and send monthly readings directly to their doctors. Motsko says it's easy to use, even for older folks who might not consider themselves tech-savvy. He says about 60% of users are over 60 years old.
Motsko tells 47 ABC, "You would think it would be just the opposite, you'd think the younger people would use this but us silver hair people really do get involved with this."
Dwyer is looking to get her health on track so she can keep up with her family. She tells 47 ABC, "My doctor obviously said if you don't get the weight off you're not going to be able to keep up with your grandchildren and that's something that has to be."
If you're interested in using the Blue Star app, you can download it from the app store. But remember, you'll need to get an activation code from your doctor first.