V.S.C.O.A. PAWS director arrested on gun charges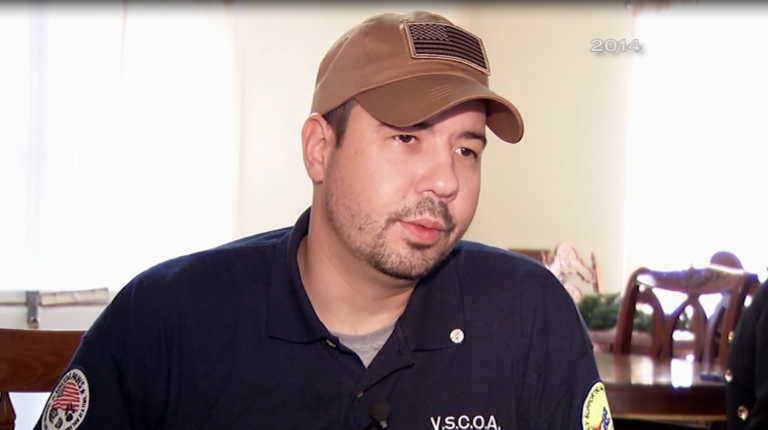 The director of the Veterans Support Centers of America PAWS program, Jason Scaletta, was arrested Thursday night on gun possession charges.
However, this story runs much deeper. Scaletta was supposed to be a part of a press conference Friday afternoon; reportedly proving his military status after he was accused of being a fraud.   
47 ABC talked with Scaletta Thursday before his arrest. He said the Secretary of the Maryland Department of Veterans Affairs would be coming down to Quantico Friday to hold a formal press conference to unveil Scaletta's military records. However, that did not happen.
Detectives say they found a gun in his home Thursday night violating his parole. 47 ABC got Scaletta's charging documents Friday.
The documents show Scaletta said quote "it's under my girlfriend's side of the bed," referring to a shot gun he also claimed was his girlfriends.
The documents also reveal Scaletta has past felony convictions for theft and obtaining money under false pretenses back in 2008. Jerry Black, the director of Veterans Support Centers of America tells 47 ABC he was blindsided by this information and thought of Scaletta like a son.
He says in addition to being held on gun charges, Scaletta who also used the last name Grey, is being investigated for violating the Stolen Valor Act.
The act says it's a quote "crime for a person to fraudulently claim having received any of a series of particular military decorations with the intention of obtaining money, property, or other tangible benefits." 
Scaletta has claimed to be a holder of the Combat Infantryman Badge, a Bronze Medal Star, and Purple Heart.
Different military advocacy groups found on the internet have been questioning Scaletta's validity. According to Black, Scaletta doesn't hold any of the awards he claimed to have.    
Scaletta reportedly claimed to have those awards when he asked for sponsorships for the V.S.C.O.A PAWS assistance dogs training program for veterans. Black tells us the entire Organization is heart broken by this discovery. He says they're working with law enforcement on this investigation and hope Scaletta is prosecuted to the fullest extent of the law.
47 ABC questioned authorities about the allegations involving the Stolen Valor Act. They would not comment nor confirm any investigation at this time.
The Wicomico County Sheriff's office also refused to comment on the gun charges because the case is still under investigation.
Scaletta is being held without bond at the Wicomico County Detention Center. Court records show he is not scheduled to appear in court until May.