USCIS brings "mobile services" to Eastern Shore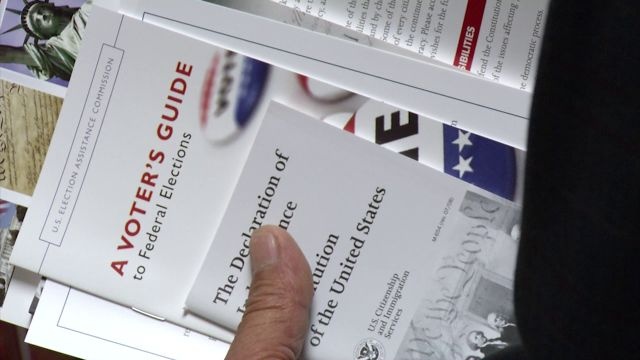 For about 40 Eastern Shore residents, Thursday was no ordinary day. It marked the day they became U.S. citizens.
Maria Kertting Parke, a Princess Anne resident, says she has been preparing for the day for about ten years.
"I prepared myself early." Says Kertting Parke. "It's not just like, in a week, or in a month, just because I had to take the test. I really prepared myself everyday."
The U.S. Naturalization Test quizzes knowledge on U.S. history, and it later requires an Oath of Allegiance for those who passed.
Kertting Parke's journey from Peru to Princess Anne started back in 2004, when she immigrated to join her now husband. Within about two years, students began calling her teacher at Greenwood Elementary where she still serves as an instructional assistant. After passing the test Thursday, she can be called something else: a U.S. citizen.
Her husband, Christopher Parke, tells 47 ABC the monumental step marked the beginning of their new life.
"I mean, she's been here for the longest time and she feels like she's been apart of this country but now being naturalized, it's like a dream come true." Says Parke.
According to the U.S. Census Bureau, "foreign born persons" made up about the 14% of the Maryland population between 2009 and 2013. That is an increase from the 10% previously estimated in the year 2000.
Until three years ago, the only option to take the test for someone on the Eastern Shore was to travel to Baltimore, where Derek Warnke is Chief of Staff at the United States Citizenship And Immigration Services (USCIS).
Warnke says in 2013, the office started offering mobile services and helping residents achieve the last step of immigration without traveling too far.
"Now, they'll have the right to vote, the right to participate in federal, state and local elections," Explains Warnke. "It means something different to every family, but it is a great deal for them."
Kertting Parke tells us it means having a voice, plus a feeling of belonging.
"I'm a part of this country now. I'm a little piece of sand that makes the beach." She says.
This is the third year the USCIS has come to Salisbury, but they do venture to other parts of Maryland.
For more information, visit the official USCIS website.