U.S. 13 Dragway & Delaware International Speedway: how it all started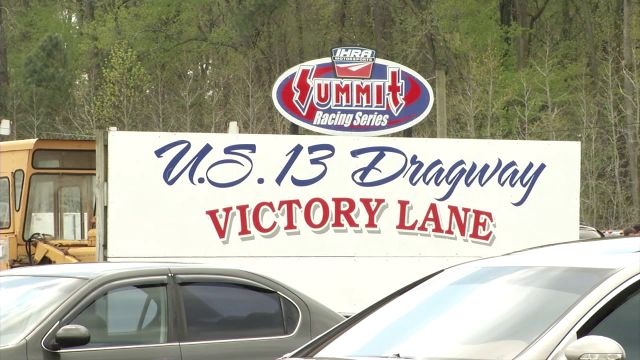 For over 50 years, the U.S. 13 Dragway has served as the proving grounds for drivers looking to make a name for themselves on the Delmarva racing scene. Dragway owners tells us it all started with William and Juanita Cathell.
"My mom and dad built the track in 1963 . . . Opened in August of '63," says Dragway CEO Charlie Cathell.
The inspiration for the track? Family. Back in 1963 William Cathell wanted a dragway so his son Charlie and his friends would have a safe place to race. They sacrificed and overcame financial adversity to build the facility. But it was more than just a hobby; in fact it was just the beginning of the Cathell family business.
Charlie became a full time employee in 1971. Fast forward 44 years and his brother Hal, son Mark and even his grandchildren join him in carrying on the tradition of what was once called the Delmar Dragway.
"It means a lot," says Mark Cathell. "The sport is instilled in us, I mean we've all grown up here, we all enjoy it, most of the family members have raced at sometime in their life."
The dragway was originally built to be a fifth of a mile long. By 1965, it was expanded to a quarter of a mile. Since then additional distance has been added only for safety reasons, enhancing what one track champion says has made much progress over the years.
"I'd say this track has come a very long ways, it used to be nothing but dirt," says Crisfield racer Sterling Clough. "I've raced from Jersey to Florida and i'll put this track alongside any track."
On the dragway, many different classes of cars battle it out for a payout once a week. But that's not the only place where local racers can duke it out. Seven years after the construction of the dragway, the Cathell family acquired the Delaware International Speedway from a racing club. While the dragway places drivers in separate lanes, the speedway gives drivers the chance to test out their custom cars and swap paint on a dirt track.
Mark explains, "It's more of a spectator sport, so to speak, because of the action and there's some crashes, there's some flips, some fires, all that kind of plays into it. It's a real contact sport."
Charlie adds, "The speedway is more of a Nascar style it's on dirt, we run five divisions on a regular basis over there."
The facility brings more to the Shore than just a place to race. Mark says that a 1988 economic impact study showed that the Speedway and Dragway contributed over $33 million dollars to the Shore's economy, bringing racers from across the east coast to the Delmarva area. Now in 2015, he says that number should be much higher.
"We've grown since then, we've added the carting facility that we have on here now," says Mark. "From car parts to restaurants you name it, we really effect all them."
Four generations, leaving a lasting legacy in both Delmar and the surrounding economy. Within their 50 years of operation, officials also tell 47 ABC that the Dragway and Speedways have hosted a number of events resulting in millions of dollars donated to local charities.
Learn more about Delaware Racing by clicking here.