Teacher Who Makes a Difference: May 2015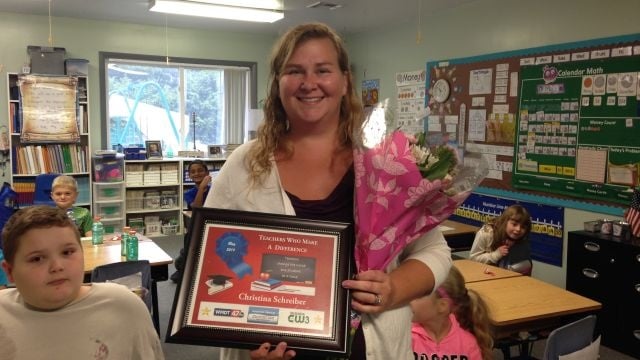 Teacher's Name: Mrs. Christina Schreiber
Teacher's School: Stepping Stones Learning Academy
School's City and State: Salisbury, MD
Reason for nominating this teacher:
I can tell with confidence that Christina has been the best teacher thus far my son has had. She is a person who believes in giving her first-graders multiple chances something these kids deserve to have a positive outlook in life. Her mantra has been- "every day is a new day" and doesn't let the previous days' events cloud her judgment. She has handled her class with compassion. She is constantly using technology, modified the class environment to suit her kids' needs and has been communicating with the parents on regular bases by using apps such as ClassManager (R). Many of the class projects have been truly family projects- cooking, 100th-day cape, etc. The cooking project was very hands-on. The kids had to come up with a menu, help in buying groceries, and cooking with parents. It was very time-consuming, but our son at the end of the project told my wife, his mom- "wow you do a lot for us, mom!!". I could not have done a better job of making him realize and appreciate how much his mom does for the family. This project alone achieved this in a single swoop. I strongly feel that our son is learning a lot of life skills in Christina's class in addition to the academics. We are extremely happy with ourselves for making the decision of enrolling our son at SSLA. We only wish our son gets more teachers like Christina in his life. God bless her dedication to her class and students.
We hope Christina gets this award because she is definitely a teacher who makes a difference in all the students in her class. This recognition from WMDT will shine the much-deserved spotlight on Christina and will inspire other teachers to emulate her.
Thanks.