Entertaining for over a century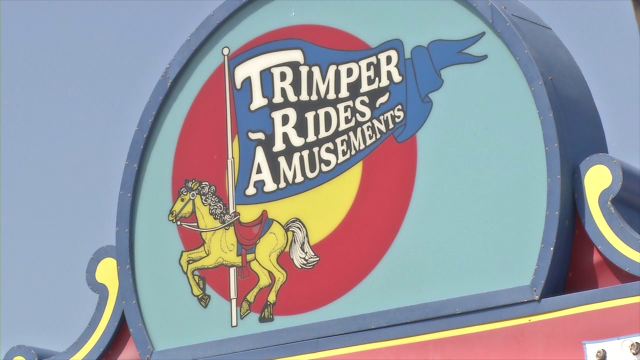 A staple at the east end of Ocean City's boardwalk Trimper's Rides and Amusements has been providing family fun for over 100 years.
"It used to be everyone came to ocean city just for the beach and they decided they wanted to add some sort of entertainment.", Says Brooks Trimper, who serves as an operations manager at the park.
Back in 1890, Daniel Sr. and Margaret Trimper took a leap of faith, selling various properties in Baltimore and leaving behind their life across the Chesapeake Bay to pursue new opportunities on the Eastern Shore.
Three-years later they purchased the Eastern Shore Hotel and the Sea Bright Hotel to build upon and begin what is now an amusing tradition five generations in the making.
Trimper commented on why his great great grandparents decided to set up shop, saying, "They loved coming to ocean city they loved coming to vacation here and by 1893 they had sold all their property in Baltimore."And "They figured if they came lots of other people would love to come too and they could have a great business opportunity to grow this into something larger."
Shortly after the acquisition of the hotels a severe storm in 1900 forced the Trimper family to rebuild the Sea Bright hotel.
They decided to re-build and merge their properties into the Windsor Resort which featured a theater and an amusement park.
In 1912 the park welcomed one of it's most impressive and historic rides to the venue. This wooden carousel which is over 100-years old brought something to the shore town that no one had seen before.
"Our carousel when it first arrived wasn't finished, it came with German carvers who finished carving the carousel here in our park. And it was originally powered by a steam engine and the steam engine provided some of the first man made lights in ocean city.", Says Trimper.
Over time and generations steady development continued as the family added new rides and attractions. Like in 1985 when the park which was in it's third of five generations with Granville Trimper at the helm.
The thriving economy allowed management to add Marty's Play Land Arcade and the Tidal Wave Roller Coaster.
Brooks said, "This was a major investment and my Grandfather and the board of directors decided it was the best decision to make the large investment to install this roller coaster and it's still our largest money maker today."
Expansion didn't stop with the Tidal Wave.
Through the years the park adapted to a younger crowd adding intense and more thrilling rides. But now in 2015 fifth generation operations manager Brooks Trimper tells 47 ABC that the times and teenagers have changed.
"Teenagers don't come out and ride those thrill rides because they're getting all of this other thrills through the Internet through video games and things it's not the same. So we have to kind of change our business strategy and attract some of the younger families."
And while the Trimpers welcome change one thing they hope always stays the same, is keeping it a family business.
With 15 family members currently working at the park the odds are certainly in their favor.
Trimper says that one of the family's biggest challenges in maintaining the park over the years has been keeping up with the new technology of the rides.