Delaware State Police discover portable meth lab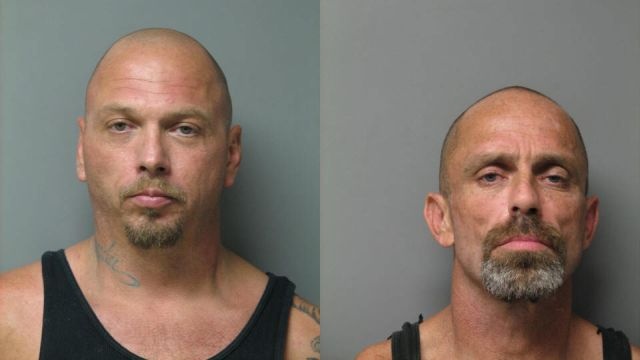 Delaware State Police officials say they are investigating a portable meth lab discovered at a residence in Felton, Del. Troopers say around 8:30 P.M. Tuesday, the Delaware State Police Governor's Task Force responded to a residence on Cabin Ridge Road to search for two wanted suspects.
Troopers say they were investigating James T. Moore, 40, for violation of probation, and Steven Jester, who was wanted on a criminal trespass warrant. The police report says Moore was hiding in a small shed towards the back of the property, with Darryl Cox, 44. Police say Jester was not located at the residence.
State Police say the shed contained numerous items consistent with a clandestine meth lab. Investigators determined that bottles were used to manufacture methamphetamine. Troopers located additional bottles containing waste associated with the manufacturing of methamphetamine, along with components and key ingredients in methamphetamine.
Trooper say Cox and Moore were each charged with Resisting Arrest, Manufacturing a Controlled Substance, Operation of a Clandestine Meth Lab, Conspiracy Second Degree, Possession of Drug Paraphernalia, and Violation of Probation. Both were committed to the James T. Vaughn Correctional center in default of $28,500.
State Police worked with the Dept. Of Natural Resources, the Kent County Drug Unit, and Little Creek Fire Dept., to dispose of the meth lab and any harmful chemicals. Troopers say the area has been declared safe.
State Police say no evacuations were necessary, as there was no immediate threat or hazards to residents nearby. The investigation is reportedly ongoing.