Wicomico County goes to Baltimore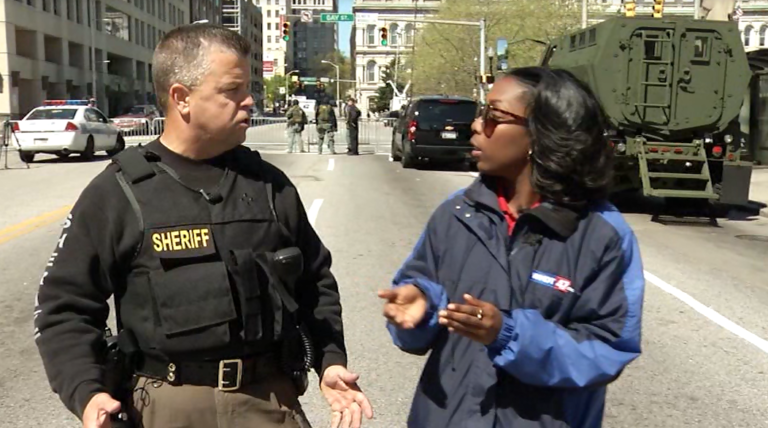 Wicomico County Sheriff Mike Lewis says, "You think it's a third world country you have no idea that this is actually happening just two hours from Salisbury."
Just after 2 a.m.Tuesday, ten men from the Wicomico County Sheriff's Office were ordered to secure the Baltimore City Police Headquarters, City Hall and the war museum.
Sergeant Kelly Matthews says, "Soon as we got the call we threw some gear in a bag, hopped out the door, and went."
Right now the area is restricted to only Baltimore city police employees.  47 ABC was allowed inside the secured post to get a look at the gear the sheriff's office brought with them. Some said they would never need to use it.
Sheriff Lewis continues, "We got that just last year, just a few months back. Obviously for a rescue vehicle, for extractions, getting people out of very hostile situations. As you can see this is now worth it's weight in gold. For all those naysayers, all those pundits, all those critics, let me say this. We have cops right now, one cop fighting for his life. We have other cops seriously injured because they were struck with bricks and bottles. You can throw bricks and bottles at this all day long it's not going to phase us."
With more than 200 arrests in relation to the riots and violence in the city, the sheriff's office tells us they came prepared for anything.
Sergeant Matthews goes on, "We're proud to be here to help out our brothers and sisters here in Baltimore."
The situation is hitting a little too close to home. Sheriff Lewis says violence in Baltimore can easily affect the shore.
Sheriff Lewis says. "Inevitably it could happen anywhere including Wicomico County. God knows we don't want that to happen."
Sheriff Lewis took time out to show us around their camp in Baltimore Tuesday and says he and his deputies aren't going anywhere just yet.
Sheriff Lewis continues, "We don't plan to leave. We don't plan to go home right now. There's still a lot of work that needs to be done. We want to make sure this city's safe and secure before we decide to leave.
Because our 47 ABC news crew was in the Baltimore Tuesday, we caught up with Governor Larry Hogan who held a press conference after meeting with religious and civil rights leaders in the downtown area.
Governor Hogan explained that the immediate need for Baltimore right now is "peace." He says what happened on Monday in Baltimore "won't happen again."
Governor Hogan says, "We're going to make sure that we get Baltimore back on track and make sure our neighborhoods are safe again."
There are one- thousand national guardsmen on the ground. 47 ABC spoke with Salisbury City Council President Jake Day who is a national guard reservist.
Day is in Baltimore along with a number of other members from Salisbury. Four hundred Maryland state troopers and law enforcement officers are also in the city.
In addition to those numbers, there are three hundred from Pennsylvania, one- hundred and fifty from New Jersey, and forty- five*from Washington, D.C.