Supreme Court to hear arguments on same-sex marriage Tuesday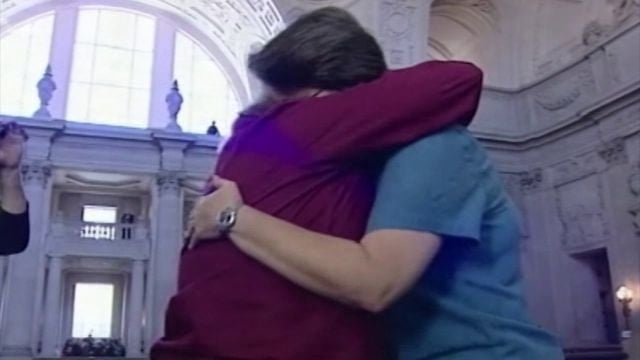 Amy Cossairt is happily married to her wife, Desiree. She is fully covered under her health insurance and the beneficiary on her life insurance.
However, she can remember clearly what it felt like before this was possible.
"It's amazing to have that right and it's been a long road," she says. "I'm glad it worked out for me but it's sad for people it doesn't work out for.
That's why Amy is one of many hoping that Tuesday will start to change that.
The Supreme Court will hear arguments in cases from four of thirteen states that have banned same-sex marriages. They will ultimately decide if the constitution requires states to license same-sex marriages and if states are required to recognize same sex marriage that happened out of state.
Depending on the ruling, it could essentially legalize marriages across the country once and for all.
"Everyone says you are welcome and you are loved but they don't treat people like that," says James Yamakawa, blank at Faith Lutheran Church in Salisbury. "You can see this sort of hypocrisy that may come from that."
Members of Faith Lutheran Church are among the limited voices in the faith-based community that are pushing for the supreme court to make history. Those against same-sex marriage say they're concerned over how the decision could re-define the term marriage.
"I think it has more than just allowing two people to get together," says Father Chris LaBarge with. "That is of generating new life and in a same sex union obviously one element of that is not really there. We're affecting the rights of what it means to be a family."
Opponents want the matter left in the hands of state voters.
Meanwhile, advocates know a ruling will not make the disagreement go away. Their hope is just that it will be the beginning of acceptance nationwide.
"Sometimes things happen in ways we don't expect them to and if this is the way it's got to happen, this is the way it's got to happen."
While the Supreme Court will begin to hear arguments on Tuesday, they are not expected to make a decision until June.