Local war veteran honored with Purple Heart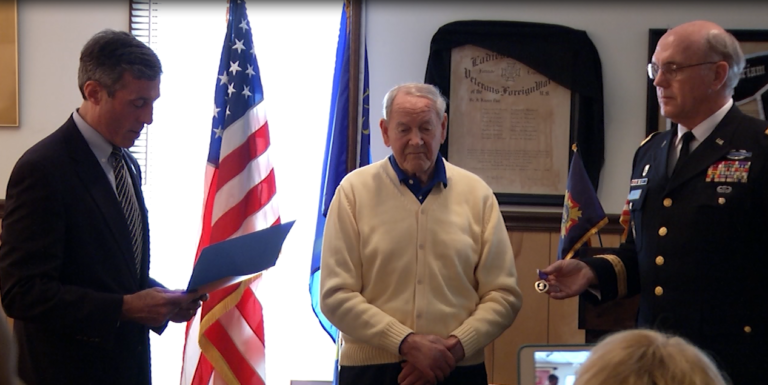 A local World War Two veteran received an honor Saturday that he's been waiting on for more than half his life.
47 ABC attended the ceremony and learned that if it wasn't for a neighbor, this honor never would have come to pass.
Bayard Horn says, "I never expected so much attention so late in life."  
Ninety-one-year Horn had to wait seventy years to be honored with the Purple Heart.
U.S. Congressman John Carney says, "Somebody that has the patience Mr. Horn has displayed over the years is really pretty special because he did serve this country. He did get wounded in action."
The Delaware native served overseas in World War Two. He was wounded when an allied aircraft bombed a train while he was riding to a German POW camp.
His leg was hit with fragments from the explosion. He says German doctors operated on him in non-sanitary conditions, leaving him with a permanent disability.  
Seven years ago, Horn shared his story with his neighbor Denny Aylor. He explained that since he wasn't technically hurt by an enemy, he never received a purple heart.
However, since then military policies have changed. Purple Hearts can be awarded to victims of terrorism and friendly fire.
Aylor says, "So I said that's not right you didn't get this. I filled out the first sets of paper work to the Army Board of Corrections to change all this."  Aylor did a noble gesture, but it was not an easy task. He was turned down three times. He tells us the military wanted hard proof that Horn was wounded in France back in 1944. 
Alyor says it took seven years to track down all the medical records and navigate through the military bureaucracy. Aylor finally received the letter that Horn had been approved this year.
Aylor goes on, "I said do you understand what that says? He said well I don't know. I said they're giving you the medal and at that point he broke down and cried for five minutes."  
Horn tells 47 ABC he's beyond honored to finally wear the Purple Heart on his chest; and says he knew one day it would happen. 
Horn replies, "Like when I was in prison camp, I knew I'd get out someday. All I had to do was wait it out."
Delaware U.S. Congressman John Carney tells 47 ABC his office is dedicated to meeting the needs of local veterans. He says if anyone knows someone who did not receive a deserved award, reach out to his office.
His office number is 202-225-4165 and his website is johncarney.house.gov.