Civics and Law Academy comes to Caroline County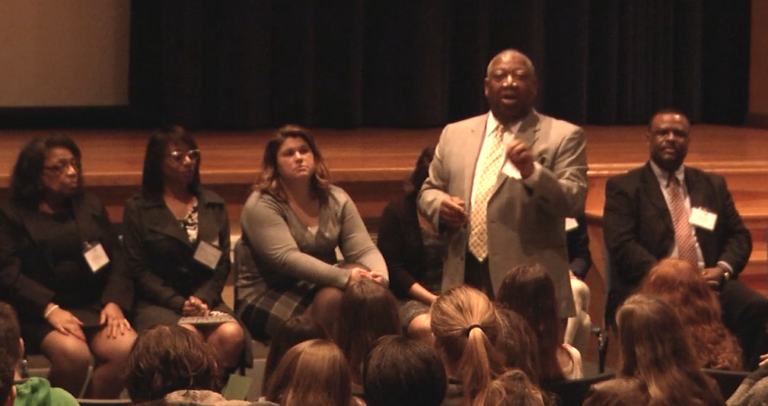 Students at North Caroline High School were sitting in front of judges and attorneys Wednesday. However, they weren't on trial, they were learning.
The program was a part of the Civics and Law Academy. It's the first time it's ever come to Caroline County.
Alan Rausch, a social studies teacher at North Caroline says, "It gave students a specific view of the Maryland judicial system. It's a system they deal with every day as students, and will as adults."
The academy is a collaborative effort between the Maryland Judiciary and the state's Public Schools. It's designed to help high school students better understand the law and develop civic competence. The academy uses examples happening in the world right now.
Pamila Brown, a judge in Howard County says, "We discussed the Oklahoma situation, we discussed Ferguson, we discussed cyber law."
Students tell 47ABC they were shocked to learn about the "grey areas" in the legal system. 9th grader Amber Sine explains to 47ABC what she learned about the case regarding a viral video of fraternity members at the University of Oklahoma, shouting a racist chant.
Although two students involved in the incident were expelled, it could be argued that the expulsion is illegal. 
Sine explains, "They weren't disrupting anything and they weren't causing violence. It was actually mainly peaceful. Even though I didn't personally agree with some of the things they said, it's not an opinionated matter because it's the law and the law is supposed to be blind."
Students say they learned that although the law is supposed to be blind, unfortunately it may not always be. Justice officials stressed the importance of knowing personal rights for that very reason.
Anndrew Gresh, a 10th grader at North Caroline says, "Those rights give us power in society and so we should really use them to our advantage."
To find out if the Civics and Law Academy can come to your school, or if you would just like to learn more about the program, give the Maryland Judiciary a call at 410-260-1488.