UMES pharmacy and PT students give back to U.S. troops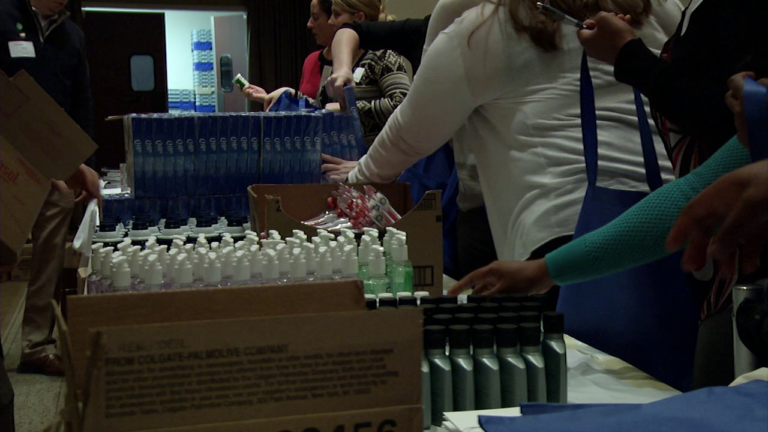 Providing support for those on the front lines, while getting educated about their own line of work.
UMES pharmaceutical and physical therapy students had the benefit of receiving some invaluable advice while giving to those who serve.
Years from now many of the UMES students from the University of Maryland Eastern shore will be pharmacists and physical therapists maybe even yours.
But on Tuesday night they weren't measuring pills for patients.
They were getting together care packages to be sent to American troops overseas.
"It's just so wonderful just to be apart of this and to learn what they're doing." Said Kat Jessen, a 3rd year physical therapy student at UMES.
From aftershave to toothpaste, the students filled the packages with personal care items supplied by the pharmaceutical company McKesson, which teamed up with the USO to make it happen.
It goes beyond the packages though, students also wrote letters to service members to thank them for their service and sacrifice.
Danielle Pederson, who is also a PT student at UMES, said "It's really important to me you know just supporting anything that the military is doing." And "my uncle flies Blackhawk helicopters for the Army and my dad was in the navy for 27 years so I really know how much it means to them."
Steve Emerson, who serves as the VP of Sales with McKesson in the Virginia area, spoke on the importance of supporting the troops, saying "By being a member of the community, it's all facets of it. One in particular we like to focus on, is the men and women in active duty service who are out there serving and defending our country."
For the students, learning about the people they are helping is essentially good practice.
Many pharmacists say the future of the industry will be about those very people and treating them less like customers and more like friends.
"Right now what we're trying to do is, we're trying to bring the pharmacists up on the learning curve and letting them see where pharmacy is headed." said Jeff Sherr, R.Ph., the president of Apple Discount Drugs in Salisbury. He added "It's becoming much more patient-centric rather than talking just about dispensing."
The care packages will be transported from the Fountains at Salisbury, which is where the event was held, to a USO facility at Fort Lee.
From there, they will be distributed to armed service members and their family members.