The Bennett Family: Life After Death Part 3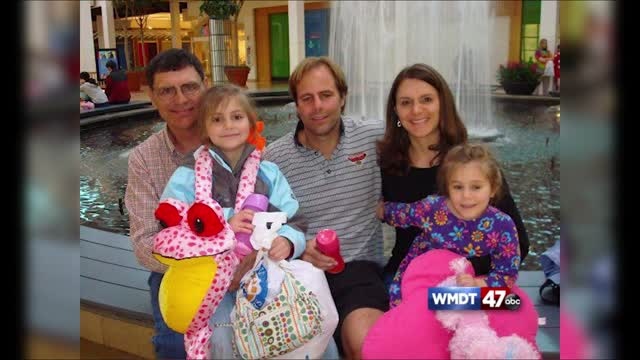 In the final part of 47 ABC's special report on the family of slain Millsboro mother, Nicole Bennett, her loved ones share with 47 ABC's Emily Lampa their hopes and fears for the future. Now that her accused killer and suspected rapist, Matthew Burton, is back in Delaware waiting to stand trial; the family prepares for what is certain to be an extremely difficult time for them.
They know once the Delaware court system sets a trial date, it's just a matter of time before they have to come face to face with Burton as well as the devastating details of Nicole Bennett's death.
Kevin Bennett tells 47 ABC it will be painful, but he welcomes any form of resolution for his family. "I'm hoping it will give me a little bit of closure. Justice will prevail. That's all you can do is hope for closure."
Kevin and his parents tell 47 ABC they would rather not speak about the details of the murder investigation for fear of how it might affect the outcome of the trial.
But they say one of their reasons for speaking out now is in the hopes that the media will give them respect and privacy as court proceedings unfold, because dealing with reporters, at that time, may be too burdensome for the family.
"It's difficult to see them hurt," Mary Bennett tells 47 ABC about her grandkids and her son, Kevin. "It's difficult to feel their pain. That's what's difficult. It breaks my heart, because I don't want them to hurt, and I can't do anything about that. That's the hard part.
"As a mother you want to step in and make things right, and I can't make this right. I'm probably the closest one that knows him, and Kevin won't let you see a lot, but I know the pain he's going through and is going through still.
"We think we're okay. And then a holiday will come. And we'll fall apart a little bit. But I don't know that it's gotten harder or easier, I think it's just there always. And I don't think it ever really will. I hope so. I hope in time, it does."
For the time being, there are so many uncertainties for this family, the surviving victims of a horrible crime.
Kevin admits he is no longer working while he deals with the trauma and the trauma of his children.
"I was working fulltime right after it happened, and I was gone a lot. I wasn't really here for them a whole lot. That was one of my reasons I had to quit that. I just really need to be here for them, right now."
"With everything they've gone through," adds Mary, "to me, it's just incredible. It shows their strength. And it shows their mom's strength and what they got from her."
Despite their grief, this family appears ready to move forward.
As difficult as it may be, Kevin says he can, knowing he continues to have the support of friends, family and even strangers.
"You know, I've got family and friends who've been helping me a great deal. And like my mom was saying, the community has just shown great support, over the past years. and that's really helped a whole lot."
A spokesperson from the Delaware Attorney General's Office tells 47 ABC that they're waiting for the court in Sussex County to set a trial date for Matthew Burton's criminal trial. It appears a scheduling meeting is happening next week.
If you would like to connect with the family or help them out, click here, to access the "Nicole Reiser Bennett – Memorial Fund" website. Click here to access the "Nicole Reiser Bennett – Memorial Fund" Facebook page.