The Bennett Family: Life After Death Part 2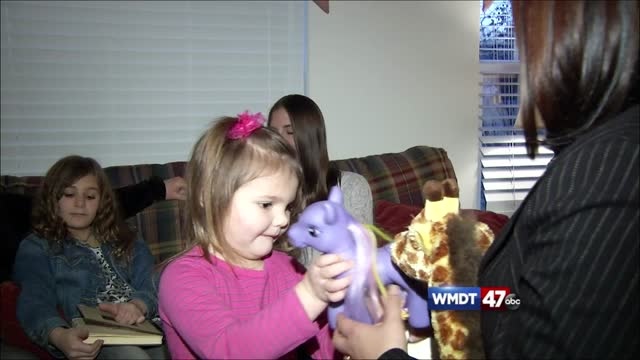 47 ABC's Special Report, Life After Death, is an intimate look at the Bennett Family, more than two years after the terrible loss of wife and mother, Nicole.
In the first part of this series of reports, Nicole's widower, Kevin, and mother-in-law, Mary, tell 47 ABC's Emily Lampa how they're still grieving and healing.
And in part two, Nicole's daughters open up to Emily about growing up through pain and tragedy.
"I guess just knowing that she's gone," explains Nicole's oldest daughter, Lauren, "that the anger is still there. It gets better, but it doesn't go away."
The girls lost their mother when Lauren was 11 years-old, Emily was eight, and Allie was just about a year old. Now that Lauren is 13 years-old, Emily is ten. and Allie is three, their father says each is a reflection of Nicole.
"The kindness and just a ton of stuff," explains Kevin. "Sometimes I look and I have to do a double-take. Sometimes, just their features and way they look sometimes…the way they act. Reminds me of her a lot.
"It's hard, because it makes me miss her. But I'm glad to see that in the girls. But it's hard."
The girls' grandmother, Mary Bennett, admits Lauren knows quite a bit about how her mother was killed and is just starting to talk about it. "I lost my mother when she was 90 years-old. And I can't imagine losing my mom at that young of an age."
Emily keeps journals which she shares only with her grandmother. "I'm honored that she trusts me enough to share it with me," Mary tearfully admits. "When I read out of here, my heart breaks. And I tell her I cry every time I read it. But then we go back and talk about it.
"These are things from her heart. Things that she's going through and her feelings and things that she says to her mommy at night sometimes."
The youngest, Allie, is sweet and playful. During the interview, she was eager to show off her skills on the iPad and her bedroom.
"Allie's such a blessing," Mary says with a smile. "She was their surprise baby. God knew we needed that little girl, right now. I don't know what we'd do without her. She's just so easy going."
Mary tells Emily Lampa that she believes Allie does remember her mommy even though she was so young when her mom died. "Anybody that looks similar to Nicole, she does look. She looks at people like that. So I think she has some kind of memory of her mommy. She remembers."
After a tour of their house, each of the girls opened up to Emily Lampa about their mom, their hobbies, and their hopes for the future. Lauren Bennett loves books and movies. And one of her latest hobbies is cooking, using her mom's recipes. "Yeah, she cooked a lot. She was really good at it."
One of Emily Bennett's fondest memories of her mom, actually involves baking.
"When we were coming home from the condo, from the bus stop," Emily remembers, "(My mom) said 'I have a surprise for you'. And Lauren said brownies. And she said, 'How did you know?' And (Lauren) said 'Because your hair smells like brownies.'"
Both Emily and Lauren love animals and playing softball. And despite all they've been through over the past few years, they both excel at school.
"They've come such a long way," Kevin says. "(Nicole) would be very, very proud of them."
In the final part of 47 ABC's special report "Life After Death", the Bennett family shares their hopes and fears for the future. Some very difficult times are ahead of them. A criminal trial and a pending civil trial. Part three takes a look at how the Bennett's are preparing for more pain as they seek closure after the brutal murder of Nicole.